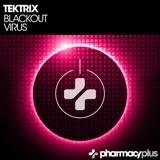 Tektrix - Blackout / Virus
Pharmacy Plus is excited to introduce the newest member of the team, Los Angeles based DJ and producer, Tektrix. Andrew Villalobos aka Tektrix has always been musically inclined, delving into many different genres. After producing uplifting trance as his first love, his tastes moved on to the more tech side of trance.
Recently, Tektrix has discovered psy trance and incorporates its sounds into this release. Although a very young producer, Tektrix boasts great production skills and shows much potential to make big waves in the trance scene with support for this release from some of the biggest names in trance including Paul Van Dyk, Alex MORPH, Bjorn Akesson, M.I.K.E, Heatbeat, Pablo Anon, Paul Trainer and many more.
Tektrix unleashes a fury of tech trance on his debut release Blackout. A pounding kick, fierce percussion and aggressive synth lines lead to an ominous yet melodic breakdown. Then it's right back to the hi-octane energy of the track straight to the finish line.
Tektrix demonstrates that he is a new force to be reckoned with on Virus, his second track on the two track EP. The bottom end is even bigger and beefier. The track has some crazy twisted sounds to make your head wobble. The highlight of this track is the breakbeat breakdown.