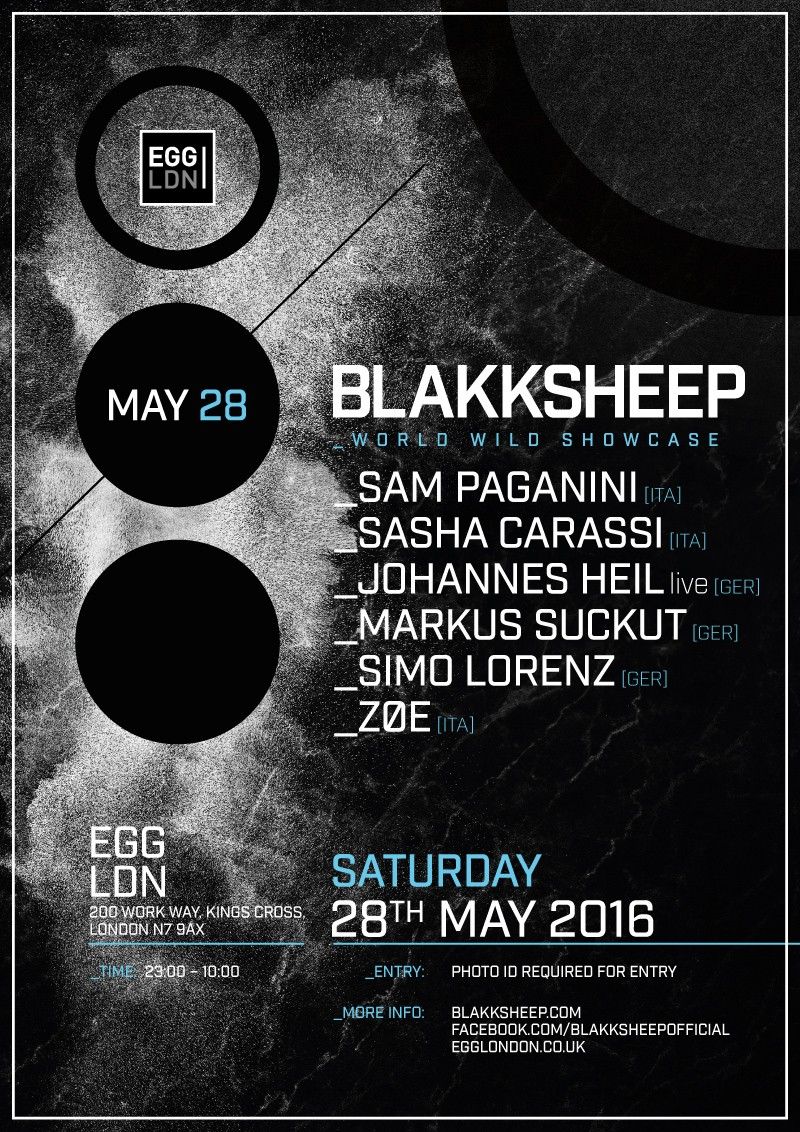 Blakksheep Showcase: Sam Paganini, Sasha Carassi, Johannes Heil, Markus Suckut, Simo Lorenz, Zoe
Saturday 28th May 2016
23:00 – 9:00
Global talent agency, Blakksheep, who are based in Vienna and Berlin, use the combined 30 year experience of their founders – Harald Reiterer, Tina Panitzke and Simo Lorenz – to put together a night of thundering techno.
Drumcode's Sam Paganini is a perennial Egg favourite, with a relentlessly driving sound that has taken him around the world, while also landing him on other leading labels such as Cocoon and Plus8. He's joined by fellow Italian and Drumcode signing Sasha Carassi, who is following in Paganini's slipstream, collaborating with the likes of Joseph Capriati and releasing world renowned acts such as Slam and Matador on his Globox and Phobiq labels.
German duo Johannes Heil and Markus Suckut have both been part of their country's techno scene since the late '90s, but last year they joined forces to launch their own Exile label. Putting out a series of untitled 12"s together, the results has been a dark, uncompromising minimal sound culminating in Johannes Heil's 'The Black Light' album at the end of 2015, hailed by some as the best techno album of the year.
Stutgart's Simo Lorenz, resident of the city's famous Lehmann Club, also bring his technical techno sound, condensing down his usual 8 hour sets to a compact burst, while Paolo Tamoni, another respected techno export from Napoli, shows why he's played alongside everyone from Jeff Mills to James Ruskin. Final act from the Blakksheep roster is JAM resident Zøe, with Egg resident Kyle E bringing his distinct sound too.
Advance tickets from £10 | Student Members £10 | More on the door