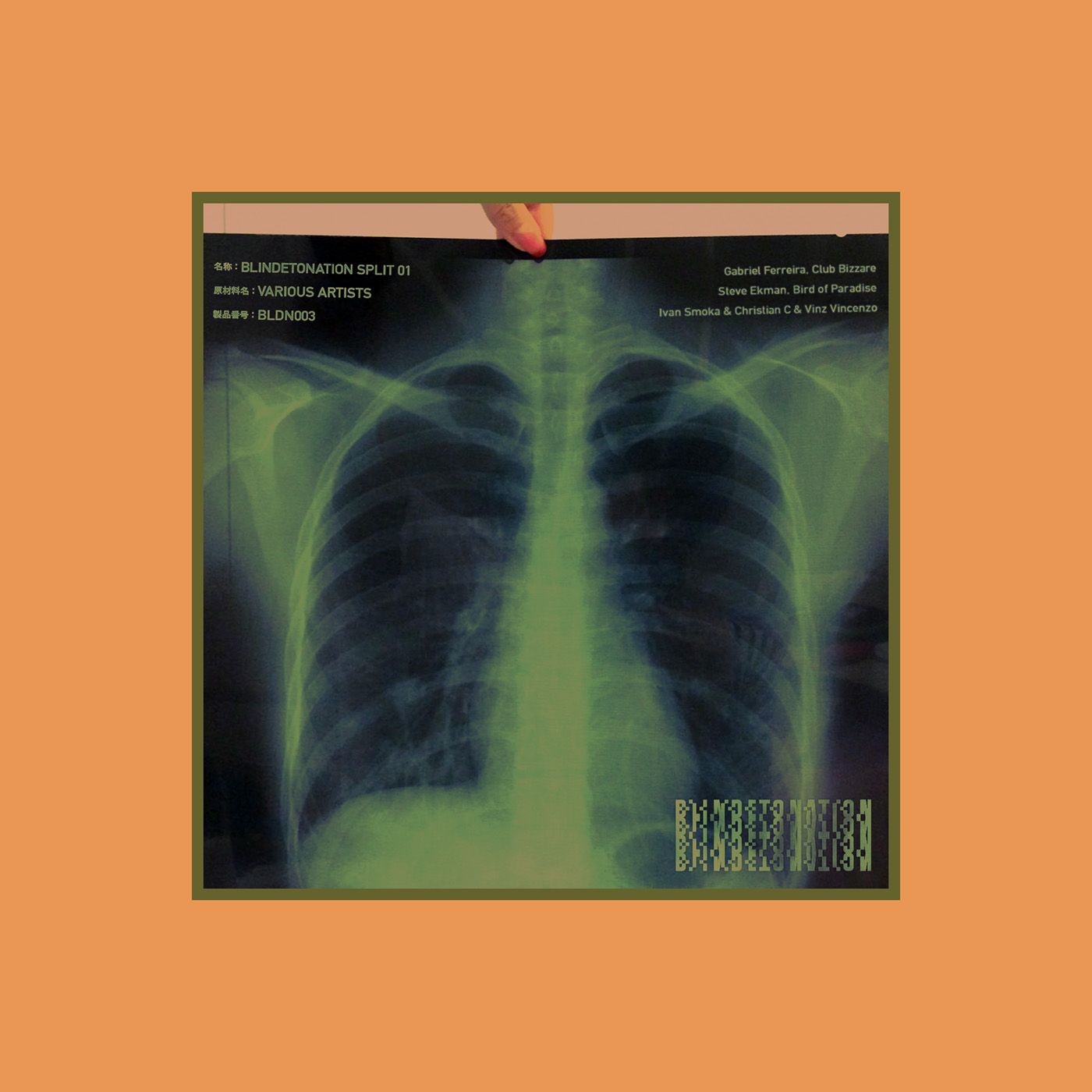 Blindetonation Split 01
Tokyo based, dark and dirty disco label Blindetonation is back with another fine package that showcases the breadth and depth of its artists. 'Blindetonation Split 01' features five tracks of drug chug, slow motion and weird cosmic sounds that join the dots between the global analogue disco movement.
Up first is Gabriel Ferreira, an Argentinian label boss at Ninefont Music who has been making everything from techno to pop to funk for a decade. He has also released on Items & Things and his excellent 'Slow Sugar' is a seriously slo-mo track with flabby arps and dehumanised female vocals rumbling along next to siren like synths and soothing sweeps of white noise.
Then comes Club Bizarre, a Metz duo who count Chloé and Daniel Avery as fans of their work to date. Their fantastic 'Supernova' is a colourful track full of big dramatic chords, sugary synths that shoot skyward and tin pot percussion that is loose limbed and funky. Steve Ekman then gets much grittier with his high pressure, industrial disco chugger 'Obscuria' with its desolate horizons and ghoulish vocals. Full of post punk energy, it is a truly forceful proposition.
For his part, Bird of Paradise (aka OOFT! and Eric Duncan backed UK talent Jo Howard) offers the soothing, organic and dreamy delights of '92 Responder' with its lush chords, trilling bird sounds and airy atmospherics all working a charm. Finally, the talented trio of Ivan Smoka, Christian C and Vinz Vincenzo go for a deep disco track with lilting acid lines rising up and down next to tape delayed chords and cosmic guitar riffs that are fresh, Balearic and beautiful.
This fine package is another winning proposition from Blindetonation and one that brings together plenty of assured talents from around the world.
Tracklist:
1. Gabriel Ferreira – Slow Sugar
2. Club Bizarre – Supernova
3. Steve Ekman – Obscuria
4. Bird of Paradise – 92.Responder
5. Ivan Smoka, Christian C, Vinz Vincenzo – The Back Door