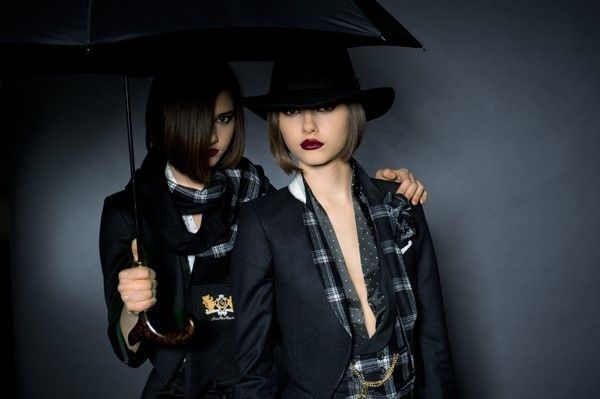 Bloom Twins – Blue
After their greatly anticipated performance on BBC2 Newsnight, Bloom Twins unveil their artistically charismatic video for 'Blue' available on iTunes in June 2014.

Directed by an artistic collective headed up by Nikita Andrianova, Oz Thakkar and Ish Sahotay, the music video challenges the spectator by providing just enough controversy to generate curiosity and excitement. Complete with a power to subvert, to imagine and to deceive.

The storyline is based on a bittersweet memory of a dysfunctional relationship. The female protagonist (played by both Anna and Sonia Kuprienko) is remembering moments with a two-faced lover. On one hand she recalls him as the mature, masculine, elegant, caring yet mysterious character (Aiden Shaw) and on the other yearns for his wild, reckless, exciting and charming side (Billy Huxley).

Clothes supplied by Joshua Kane who featured Bloom Twins in his AW14 campaign and a Fashion Film. The collaboration in part portrays the melancholic musings and inner anguish of the relationship between a man and a woman. The film marries the visual provocation of Joshua Kane's honed stylistic approach with the pop duos ethereal harmonies laid down on the bespoke version of the track 'Blue'.