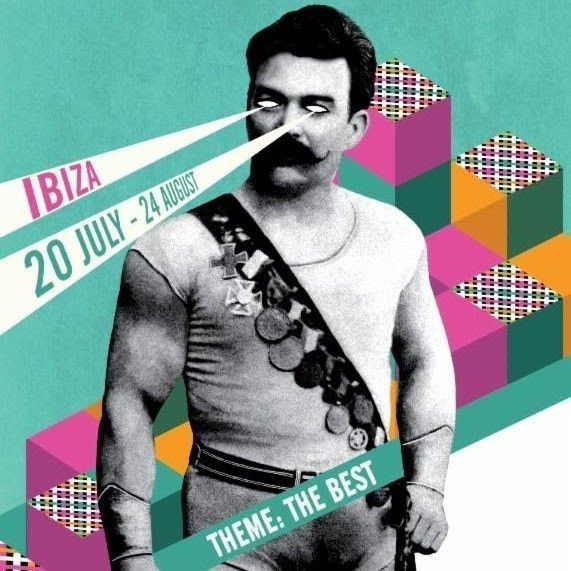 BLOOP Arts Festival Ibiza
On the 20th July 2014, BLOOP Proactive Arts Festival will be launching its month long program of art and music based activities, taking place across the unique island of Ibiza, and all completely free.
Riva Starr & Santos will be headlinging the official BLOOP opening party, alongside Digital Genetic Pasta, The Coolness LIVE, Mila LIVE as part of a Snatch showcase on the 20th July at Sa Punta D`es Molí. There will also be the renowned 'Bloop N Sunsets' – stunning sunset music sessions taking place at Bloop's HQ. The Bloop closing party will say goodbye to the festival on the 24th August and will take place at one of Ibiza's most uniqu venues, Benimussa Park. A very special line-up will be announced closer to the time.
Also taking place across the free month long street-art festival:
BLOOP HQ MUSEUM
A museum of proactive art with interactive installations by Lo Spino and Xavi`s lab, a mural byGaucholadri (winner of BLOOP x GSA contest), photography by Marc Colomines, a plant installation by Montse Nadal, an installation by Pineapple Crocodile and Silva Ramacci, and more with the aural backdrop of Digital Genetic Pasta.
THE MERCARTIILLO
The carefully picked Design & Art market will be welcoming you at the Plaza in front of the BLOOP Headquarters. The markets will run from the from the 5th August – 15th August, on an evening between 17:00-24:00 (expect for Mondays!).

OPEN AIR GALLERY
Under the festival`s ethos "Art is for everybody" the Open Air Gallery continues its course with more additions to the collection. A project with a long-term objective to convert a town into a canvas with murals and installations, accessible to everyone all year round. This year murals come courtesy of international artists including INTI, Agostino Iacurci, Gaucholadri, Fikos, Bisser, Pekolejo, and installations from Fra. Biancoshock will also be contributing to the project. Artists who have their work in the collection already are Phlegm, Interesni Kazki, B-Toy, Cuellimangui, Skount, Fede Massa aka Cruz, BLOOP KIDS, David de la Mano & Pablo S. Herrero, Emilio Cejalvo and more. Open Air Gallery maps will be distributed everywhere on the island.
BLOOP HQ MUSEUM
Date: 20th July – 24th August
Venue: Far de ses Coves Blanques, San Antonio
OPEN AIR GALLERY
Date: All year round
Time: Any time
Venue: San Antonio
OPENING PARTY – Riva Starr & Santos headlining
Date: 20th July
Venue: Sa Punta D`es Molí
Line-up: Riva Starr & Santos, Digital Genetic Pasta, The Coolness LIVE, Mila LIVE.
BLOOP `N` SUNSETS – Sunset Music Sessions
Dates: Nearly everyday throughout the duration of the festival.
Venue: BLOOP Headquarters, The Old Lighthouse, Far de ses Coves Blanques, San Antonio
Line-up: Tranz Lasagne, Freakatronic, Digital Genetic Pasta, Mosumeci, Sevenbreads, Pineapple Crocoddile and more to be announced.
CLOSING PARTY
Date: 24th August
Very special line-up & venue to be announced.

THE EMERGING COLLECTIVE EXPOSITION
Date: 1st-7th August
Venue: Sa Punta D'es Moli, San Antonio
Featuring: Sofia Bteibet, Kindergarten and Parasite 2.0.
More artists to be confirmed in the next few weeks!
For full info, please visit
www.bloop-festival.com