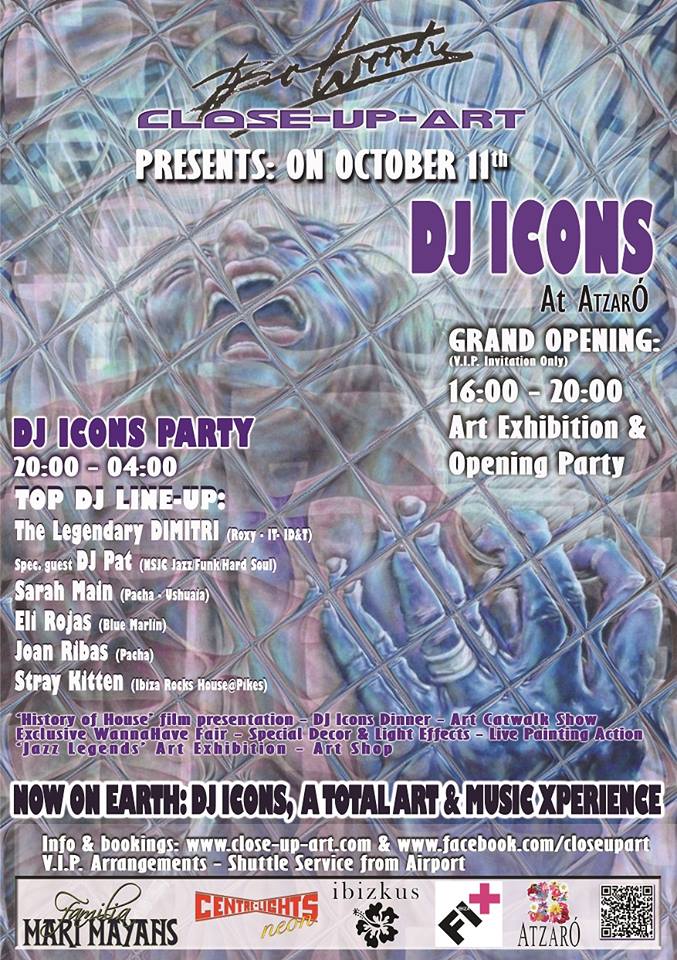 BO WOODY WINTER PRESENTS DJ ICONS IN IBIZA
Dutch artist Bo Woody Winter is no stranger to Ibiza, the semi-resident most recently having presented his Jazz Legends exhibition at Ibiza Rocks House at Pikes Hotel in early August 2013. His series of jazz paintings, including the 10 x 2 m painting saw the closing of an exhibition tour that started back in 2011 at the North Sea Jazz Festival. But now, Winter is focusing on the presentation of a new series of paintings that have already been two years in the making: – DJ ICONS is the name and superstar DJs is the game. The multi-media event, confirmed for Friday October 11 at Agroturismo Atzaró, Ibiza, sees the start of Bo Woody Winter's latest art/music fusion tour and its presentation across Europe, the USA and Asia.
Although he is already known in the jazz/art circles as a self-proclaimed Jazz Junkie, Winter has another musical side to his history, with a deeply rooted background in Holland's rave scene since 'back in the day', a fact that becomes crystal clear on the viewing of his latest collection of 25 paintings of some of the biggest and most influential names in the history of dance music.
In keeping with his signature style of 'synesthesia', all of the pieces in Winter's latest series have been created through the mediums of both art and music. For Bo, the two are simply inseparable; his paintings seem to absorb the very essence of the music he listens to whilst working. The results speak for themselves, plain to see at the Atzaró exhibition on Oct 11.
So far, so good. Meanwhile, back in Holland, Bo is cracking on with the final few portraits for inclusion in the exhibition. To date, Winter has completed 21 of the 25 portraits to be featured in the exhibition- in no particular order, Sven Väth, Luciano, Carl Cox, Frankie Knuckles, Derrick May, Marshall Jefferson, Alfredo Fiorito, Pete Tong, Dimitri, Laurent Garnier, Kevin Saunders, Armin van Buuren, Tiësto, David Guetta, Bob Sinclar, Carl Craig, Eric Morillo, Steve Aoki, Avicii, Sarah Main and Eli Rojas with just a few more names to be announced in the next days.

Whilst the launch event of the DJ Icons Tour at Atzaró has the art as it's main focus, it also promises a refined dining experience, a spectacular music and light show, an 'Art Catwalk Show', the WannaHave Fair, the World premiere of 3D Synesthesia FX, a live paint by the star of the show, Bo Woody Winter, plus a DJ line up that includes one of Holland's finest and instigator of the Dutch Dance Scene- DJ DIMITRI, hero to many an experienced clubber. Dimitri first made an appearance at Amsterdam's famous house temple 'Roxy' ion 1988, bringing his sound and style to Ibiza in 1991 and going on to become a leading international house DJ.
Joining him in providing the soundtrack to DJ Icons, island favourite, Joan Ribas is confirmed as well as Dutch DJ Pat (master of jazz and dance lounge), Eli Rojas (Blue Marlin), Sarah Main (Pacha/Ushuaia) and Stray Kitten (Ibiza Rocks House/Pikes Hotel) with more very special guest DJs announced in the next days.
Bo Woody Winter says of the event: "Back in the 90s, I was involved in the early house parties as organizer and decorator but in more recent years, my focus has been my paintings. Last year, I started painting portraits of DJs that I feel have really turned the dance scene into what it is today. This series of 25 top DJs had to be presented in a special setting and for that reason we had to choose the island of dance: Ibiza. We want to create an event with an old school house party atmosphere, allowing guests to feel they're amongst friends, like the old days so we chose the wonderful Atzaró for this presentation of art meets old school in optima forma."
Entrance to this event is limited to 900 people. Special VIP arrangements can be booked through Close Up Art (www.close-up-art.com) and Buitenlandsche Zaken (www.buitenlandschezaken.nl)
On the night of the event, Mari Mayans Hierbas de Ibiza will present a special DJ Icons drink and local vineyard, Ibizkus will serve their finest wines. Centre-Lights Neon will also present their commercial art neon projects.

Tickets are available at: http://www.close-up-art.com/event/dj-icons/
On Facebook:
https://www.facebook.com/events/159625160899223/
https://www.facebook.com/groups/712458255446595/
Event Partners:
http://www.centrelights.nl/home/
http://ibizkus.com/
http://www.hierbasibicencas.es/
http://fixibiza.com/
http://www.atzaro.com/agroturismo-ibiza/es/
http://www.centrelights.nl/home/
www.ginvi.nl