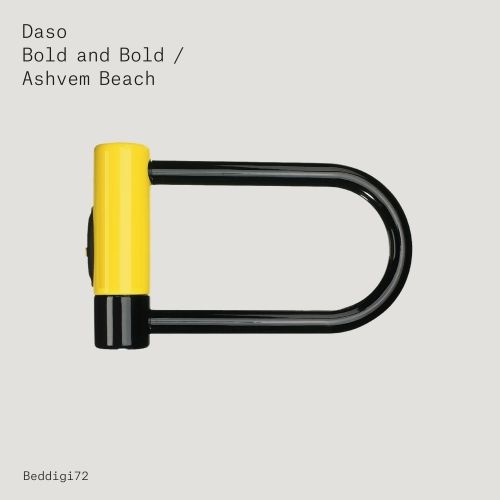 Daso - Bold and Bold / Ashvem Beach
"Music and love are the most important things in my life, and this message I want to spread through my songs. Love not only to people but to all kinds of beings and things." – Daso
Daso Franke was born in Poona (India) and at the age of five was using the dance floor of his father's disco as a playground, growing up with the music of Miles Davis, Jimi Hendrix and radio pop. Now, living in Berlin, this multi-talented music producer, live act and party machine, is one of the most exciting artists to emerge in recent times on the never-ending rollercoaster ride that is the modern electronic music circus. He is now set to make his emphatic debut on John Digweed's Bedrock Records with two stunning creations.
"Bold and Bold" with its sensuously seductive motifs, deeply hypnotic groove backbone, all hallmarked with Daso's defining elegance and style, is perfectly suited to Bedrock's forward-thinking creative ethos. In the same way, the energetic, yet subtle throb of "Ashvem Beach" mixes acidic undertones with ethereal beauty into a stunningly effective concoction that is both refreshing and mesmerizing.
If you haven't had the chance to witness Daso's live performances, they come highly recommended. From emotional house, that can abruptly and unexpectedly morph into rave hymns and powerful techno, he controls the crowd by creating ecstatic moments through perfectly timed changes of style. Daso is a rare talent, an extraordinary artist and performer, whose Bedrock debut will surely be lighting up dancefloors everywhere for many moons to come.
Bedrock info:
www.bedrock.uk.net
www.johndigweed.com
www.bedrockmusic.bigcartel.com
www.facebook.com/bedrockrecords
www.twitter.com/#!/BedrockRecords
www.youtube.com/user/bedrocktransitions
Daso Info:
http://www.daso.tv
https://www.facebook.com/daso.fanpage
https://twitter.com/daso_channel
https://soundcloud.com/daso