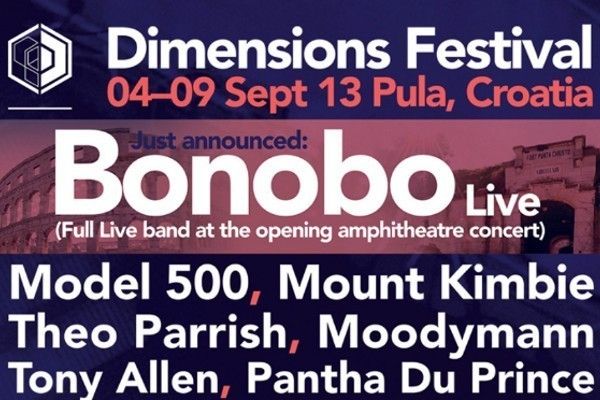 Bonobo announced for Dimensions Festival Opening
Dimensions Festival is thrilled to announce that the inimitable Bonobo and his live band will be headlining the highly anticipated pre-festival concert on Wednesday 4th September 2013 in Pula, Croatia. Taking place between the remarkable walls of a 2000-year-old Roman amphitheatre (one of the six largest in the world), Bonobo's cutting edge musical soundscapes complete the line-up for what will be an unforgettable warm up show ahead of Dimensions Festival – Croatia's finest exploration of expressive electronic music.
Bonobo's live performance comes in the midst of a huge run of international tour dates following the spring launch of his fifth album The North Borders, a perfectly formed, addictive and resonant evolution from his widely acclaimed fourth album Black Sands. Leading his band from the middle, expect a hypnotic performance fitting seamlessly with the magnitude of the ancient walls of the grand amphitheater.
Previously confirmed to perform live is Warp Records' finest electronic duo Mount Kimbie, who have received critical acclaim across the board for their recent LP 'Cold Spring Fault Less Youth'. Also performing live will be London four piece Portico Quartet, who have gone from strength to strength after their debut album 'Knee-deep in the North Sea' was nominated for a Mercury Music Prize in 2008, as well Ghanaian-British Andrew Ashong, who after releasing the incredible 'Flowers' last year – a collaboration with the legendary Theo Parrish and winner of 'Track Of The Year' at the Gilles Peterson Worldwide Awards – has become a firm one to watch for 2013.
Dimensions has worked in partnership with the city of Pula to present an event that will be open to festival goers and the general public alike. Priced at the very reasonable €16 (+ BF), the festival has kept the ticket price as low as possible in order for festival goers and Pula locals to enjoy an amazing concert at such a historical venue.
Dimensions Festival Opening Concert Event Details
The Roman Amphitheatre: Pula Arena
Wednesday 4th September 2013
Doors 19:00
Bonobo – with live band
Also performing Live:
Mount Kimbie & Andrew Ashong – live
Tickets: €16 + BF / £15 + BF
For more information go to:
http://www.dimensionsfestival.com
Wednesday 4th September – Monday 9th September 2013
Tickets available here: http://bit.ly/RBu0Sb
Social:
https://twitter.com/Dimensions_Fest
http://www.facebook.com/DimensionsFestival?fref=ts