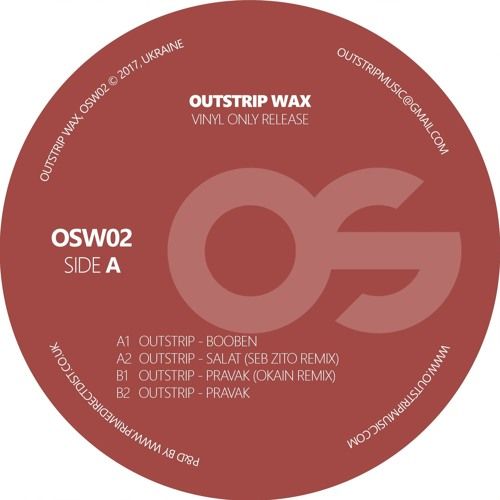 Outstrip - Booben EP
Ukrainian duo Anton Sever and Denis Borisov aka Outstrip have been making music together for a couple of years now but only launched their label, Outstrip Wax, at the tail end of last year. The pair return with their second release on the imprint, Booben EP.
The title track is classy laidback house and sees lush synths rise and fall over tight percussion and a punchy bassline. Fuse resident Seb Zibo steps up with his remix of 'Salat', sharp drums and murmured vocals create a rhythmic groove that keeps things rolling over. B-side 'Pravak' is a warm house number, where floaty synths counteract the heavy hi-hats and dynamic 4/4 rhythm. French-producer Okain, whose previous credits include releases on No Fit State and Tsuba, provides the remix. The Talman Records boss focuses on the percussive elements of the original, drawing out the track's trippy side through broken beats, fractured drums and synth noises. Outstrip appear to have chosen their remixers wisely, balancing their own stripped back house with artists who are able to add their own touch without diverting too far from the main narrative.