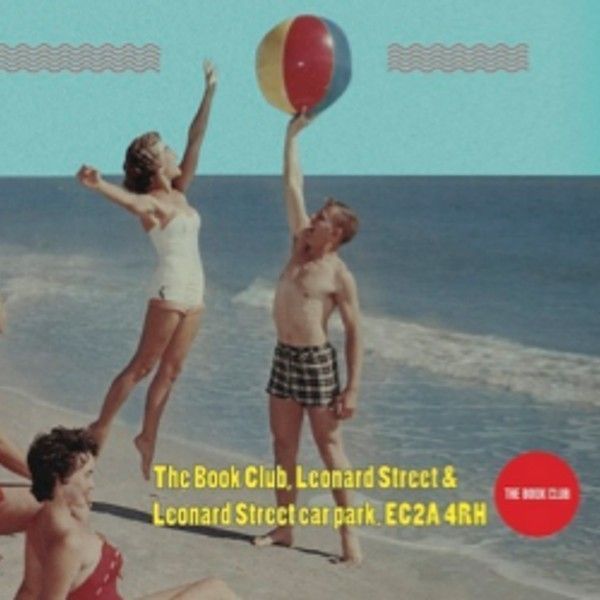 Bookstock-On-Sea
The third annual Bookstock street festival returns on Sunday August 25th, as Shoreditch's Leonard Street venue The Book Club presents Bookstock-On-Sea – a celebration of the great British summer and all the fun of the seaside, with a fun-filled Shoreditch twist.
For 2013, Bookstock-On-Sea is a beside-the-seaside street party, with a summery soundtrack provided by legendary disco band Odyssey who play live, hip hop duo The Nextmen, Prince tribute Princeless, piano man Davos T, Disco Bloodbath's Ben Pistor, Bad Zuke and Big In Japan's Capita!. The entertainment is spread across three arenas – The Promenade, The Pier and Under the Pier in the basement, which will be transformed into a den of lights and lazers by the To The Lazer Caves cosmic crusaders.
Expect all the best bits of your favourite seaside towns, including a Slow Motion 'Baywatch' Running competition and a Knobbly Knees Contest, a Human Punch & Judy show, surf simulator, amusements arcade, musical seaside bingo, a feast of fish & chips, special edition Bookstock-On-Sea sticks of rock, ice cream floats and scrummy sea salt cocktails. It's a holiday and a festival all rolled into one!
Odyssey perform live classic tracks such as 'Inside Out', 'Native New Yorker' and many more. Swing those hips and sing along to this much-loved band as they take to the stage. The two cheeky chappies that make up The Nextmen – Brad Baloo and Dom Search – drop their dancehall, drum'n'bass, reggae, roots, hip hop and straight-up party jacking pleasers to get down and dirty to.
Hop in a 'Little Red Corvette' or visit 'Erotic City' with Ross Morton's electrifying Prince tribute act Princeless – a dancefloor-rocking band set to deliver an exciting, high-energy and unbelieveably convincing show. And Davos T shows us how you can become famous in less than 24 hours. The santa hat-clad piano player reached 40,000 YouTube hits in one day for his bonafide acid housey piano talent and incredible skill.
One half of Disco Bloodbath, Ben Pistor will be boarding the good ship Yacht Rock, belting out guilty pop classics and party pumpers on the Promenade. Disco Bloodbath have graced some of Europe's most discerning parties – and have even gone as far as Japan and the Middle East. Ben spinning those disco discs is not to be missed. Bad Zuke of The Jinks production and DJ duo, and Big In Japan's Capita! finish off the DJ talent on the day.
Celebrate the last bank holiday of the year beside the seaside with live music, party DJs, great grub, flowing booze, fun competitions and a whole lot more besides. Brought to you by Shoreditch hangout The Book Club, Bookstock is Leonard Street's answer to the summer festivals.
Bookstock was launched in 2011 by Shoreditch venue The Book Club as a standalone street festival event. It was a roaring success that saw 4,000 people throughout the day. In 2012 Bookstock featured the likes of Dub Pistols, We Were Evergreen, Mark Archer, Normski, Bikini Beach Band and Emily Rawson. Now Bookstock-On-Sea offers something fresh, with a seaside party smack bang in the middle of Shoreditch.
Bookstock is FREE ENTRY all day. Priority entry wristbands are now available at The Book Club (while stocks last). Priority entry wristbands are limited and will offer priority entry all day. However, those without wristbands can still gain entry subject to capacity. Visit www.wearetbc.com/bookstock. for more information.
Three arenas…
The Promenade * The Pier * Under the Pier
Acts…
Odyssey (live)
The Nextmen
Princeless
Davos T
To The Lazer Cave
Ben Pistor (Disco Bloodbath)
Bad Zuke (The Jinks)
Capita! (Big In Japan)
Expect…
Fish & Chips * Bookstock-On-Sea Sticks of Rock * Ice Cream Floats * Sea Salt Cocktails * Human Punch & Judy * Surf Simulator * Slow-Motion Baywatch Running Competition * Knobby Knees Contest * Amusements Arcade * Musical Seaside Bingo * and more
Bookstock-On-Sea brings the seaside to Shoreditch, taking the street festival and twisting it on its head. Sing, dance, listen, watch, pose, pout and join in the fun. Come and see Leonard Street get involved with this summertime party!
For information on wristbands for Bookstock-On-Sea, visit www.wearetbc.com/bookstock