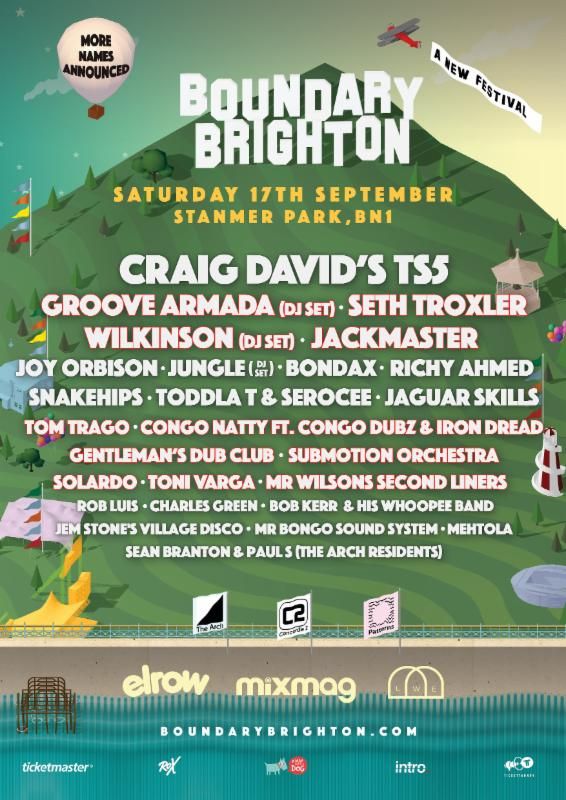 Boundary Brighton Second wave of acts announced…
Working with tireless passion and meticulous detail the team behind brand new music festival Boundary Brighton add a star-studded cast of acts to their debut show. With the bar set high, new acts include Craig David, Groove Armada, Jackmaster, Richy Ahmed, Jaguar Skills and many more, to dance-out the summer at Stanmer Park on Saturday 17th September 2016.
Craig David has taken 2016 by storm and will headline the festival with TS5; expect a forward-thinking trip to nostalgia; with a heavy emphasis on party. Expect an eclectic mix of bangers from old school anthems and future classics. Commenting on the show, Craig David said "I can't wait to bring 'TS5' to Boundary Brighton! Trust me it's going to go off big time!"

Groove Armada will bring one of their famous DJ sets to the first event. Constantly moving and evolving you can expect a set that goes through the very best In house music.

Jackmaster has a mercurial ear for making people dance, breaking down the barriers between fun, underground and commercial, he'll always leave you with a smile on your face.

When Richy Ahmed is on a lineup, you know the party is going to have some heavy heat. Having earnt his stripes curating some of the DC-10 lineups in Ibiza, he's become a trusted ear within house and techno.

One of the most naturally gifted DJs on the planet, Jaguar Skills is insane to watch when he's in full flow. Tweaking every single knob on the mixer, his technical wizardry puts others to shame. From rock to rave, hip-hop to rap; he'll be mixing it all up with ninja skills.

Iron Dread, the righteous rhyming Lioness will bring her junglist flow to Congo Natty's set. A proper party starter she'll bring a touch of carnival to Stanmer Park.

Boundary is all about doing things a little differently, so we've called on the eccentricity of Bob Kerr and his Whoopee Band, a mad cap jazz outfit formed in 1967. They're as brilliant as they are utterly insane. They are joined by Mr Wilson's Second Liners – A New Orleans band are bubbling over with serotonin infused 90's rave classics. An anarchic extravaganza, bursting with colour and sound, rallying impromptu raves at every turn.

Toni Varga has built a career on connecting with the audience, which has made him a staple on the Elrow lineups globally. He'll be bringing his experiential electronic rhythms to the Elrow stage.
With previously announced acts including Seth Troxler, Wilkinson, Bondax, Jungle, Snake Hips, Toddla T, Tom Trago, Gentleman't Dub Club, Submotion Orchestra and Congo Natty, Boundary Brighton's debut show will offer a vibrant array of music to keep festival-goers on their toes and dancing throughout the day.
With further surprises yet to come, presale and first release have completely sold out with second release tickets running low.
LINEUP:
CRAIG DAVID'S TS5
GROOVE ARMADA (DJ SET)
SETH TROXLER
WILKINSON (DJ SET)
JACKMASTER
JOY ORBISON
JUNGLE (DJ SET)
BONDAX
RICHY AHMED
SNAKEHIPS
TODDLA T & SEROCEE
JAGUAR SKILLS
TOM TRAGO
CONGO NATTY – FT. CONGO DUBZ & IRON DREAD
GENTLEMAN'S DUB CLUB
SUBMOTION ORCHESTRA
SOLARDO
TONI VARGA
MR WILSON'S SECOND LINERS
ROB LUIS
CHARLES GREEN
BOB KERR & HIS WHOOPEE BAND
JEM STONE'S VILLAGE DISCO
MR BONGO SOUND SYSTEM
Tickets
Presale £22.50 + booking fee (SOLD OUT)
1st Release £29.50 + booking fee (SOLD OUT)
2nd Release £37.50 + booking fee (Limited number remaining)
3rd Release £45.00 + booking fee (On sale soon)

Become an ambassador: Earn a free ticket by selling 6 to your mates.
Find out more: http://bit.ly/BB_Ambassador
www.boundarybrighton.co