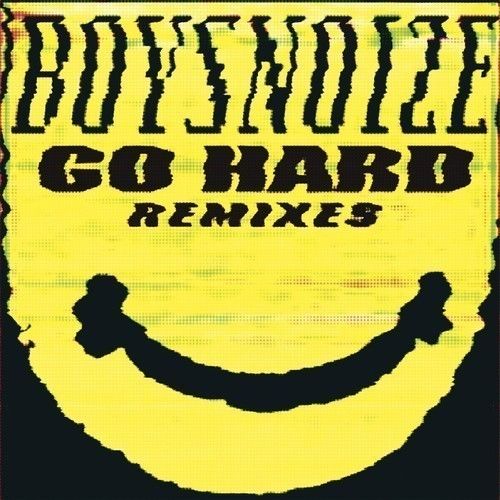 BOYS NOIZE – GO HARD EP – THE REMIXES
Alex Ridha AKA Boys Noize is set to release 'Go Hard – The Remixes' later this month. Following a string of shows in the US on the BNR Invasion Tour and having released 'Out of the Black – The Remixes' earlier this year, 'Go Hard – The Remixes' features a stunning selection of remixes set for release on 28th April via his very own Boysnoize Records.

Club Cheval get things started with a trademark punchy rework of 'Excuse Me,' an avalanche of musical excellence from the French quartet made up of Sam Tiba, Pelican Fly, MYD and Canblaster. LA based Salva keeps the energy flowing with a high octane remix of 'Push Em Up' before Ultramajic's Aden AKA Machinedrum delivers a bass-led, neon-streaked club mix of 'Inhale/Exhale.' Elsewhere Pilo shows his skills in exciting new house and Dutch newcomer Juyen Sebulba complete the deluxe remix package with his refreshing take on old-school hard style electronica, a unique recipe for modern age house.

In the past year and with his signature SKULL in tow, Boys Noize has also toured Europe, the US, Asia, Australia and South Africa as well as releasing the GO HARD EP last June. He also found time to team up with Skrillex to form Dog Blood, releasing 2 EP's (Middle Finger Part II EP accessible HERE) and ighting up stages all over the world including Glastonbury, Coachella, Lollapalooza, ULTRA & Electric Zoo with an electrifying live set.
Boys Noize and label mate Spank Rock talked with Billboard in Miami about their upcoming work, which includes new Spank Rock album, and his own collaboration with Chilly Gonzales, Ivory Tower (album details tba). You can see the video interview HERE.

Boysnoize Records (BNR), the label Alexander Ridha founded 2005 in order to allow himself to retain full artistic freedom while releasing his own music under the name Boys Noize and other monikers. The Berlin-based anarchist collective have since release albums from high-ranked artists Spank Rock, Siriusmo, Housemeister, Strip Steve and SCNTS, and EPs from Djedjotronic, Boody & Le1f, Peaches and UZ. – and of course Boys Noize's own back catalogue.

Go Hard – The Remixes EP – tracklsting digital:
Excuse Me (Club Cheval Remix)
Push Em Up (Salva Remix)
Inhale / Exhale (Aden Remix)
Starwin (Bounce Version)
Excuse Me (Pilo Remix)
Go Hard (Juyen Sebulba Remix)
FURTHER DETAILS AND TOURDATES ON THE OVERLEAF

Go Hard – The Remixes EP – tracklisting vinyl:
A1. Excuse Me (Club Cheval Remix)
A2. Starwin (Bounce Remix)
A3. Push Em Up (Salva Remix)
B1. Inhale / Exhale (Aden Remix)
B2. Excuse Me (Pilo Remix)
Boys Noize Where's Your Child? World Tour:
4/11 – Madrid, Spain @ Reverse. La Riviera
4/12 – Fraga @Florida135
4/17 – London, UK @ Bugged Out @ Area
4/18 – Morlaix @ Panoramas Festival
4/19 – Paris @ Showcase
4/20 – Schijndel, The Netherlands @ Paaspop Festival
4/25 – Atlanta, GA @ Counterpoint
5/1 – Boston, MA @ Royale Nightclub
5/2 – Toronto, CAN @ The Hoxton
5/3 – Montreal, CAN @ Telus
5/7 – Phoenix, AZ @ Monarch Theatre
5/8 – Denver, CO @ Beta Nightclub
5/9 – Chicago, IL @ The Mid
5/15 – Orlando, FL @ Firestone Amphitheatre @ The Lot
5/16 – Tampa Bay, FL @ Ampitheater
5/17 – El Paso, TX @ Tricky Falls
5/18 – Gulf Shores, AL @ Hangout Music Festival
5/23 – Edmonton, CAN @ Union Hall
5/24 – East Rutherford, NJ @ MatLife Stadium
5/25 – East Rutherford, NJ @ Electric Daisy Carnaval
5/26 – Detroit, MI @ Movement
5/31 – Munich, Germany @ Organic Dance Music Festival
6/6 – Copenhagen, Denmark @ Distortion 2014
6/7 – Stockholm, Sweden @ Debaser Medis
6/12 – Barcelona, Spain @ Sonar 2014
9/5 – Isle of Wight, UK @ Bestival
More tour dates to be announced soon