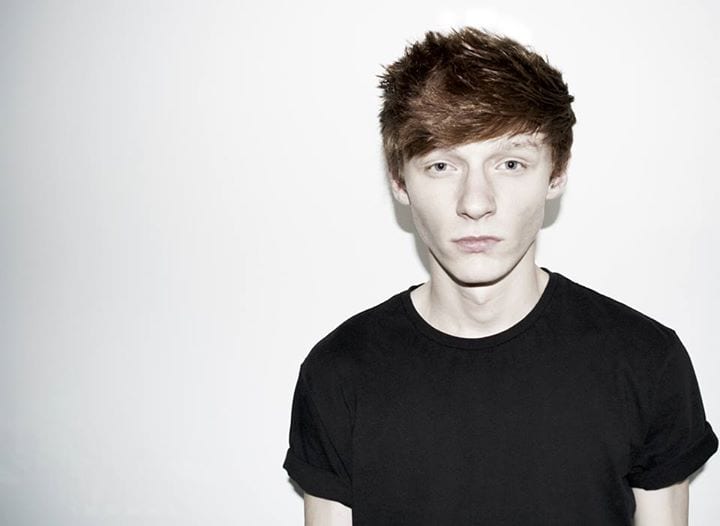 Bradley James' Top 3s
Hailing from Staffordshire, up-and-coming DJ and producer Bradley James is quickly becoming one of the hottest new acts within the electronic music territory. He's been enjoying success since the very beginning, landing a deal with Treatment within his first year of producing and gaining support on BBC Introducing.

Bradley James had an astonishing start with his debut single 'Charger', released via Matchbox Recordings, and he's capitalised on his achievements by following up with outstanding projects such as his EP 'Visionary', showing he's going a long way since his humble mobile DJing beginnings.

Although Bradley draws influences from the likes of: Michael Woods, Nicky Romero, Afrojack and his musical idol Deadmau5, he has created his own voice within the Dance music scene and his sounds sit comfortably within the various proportions of House. Nonetheless he spices up his style with a touch of Electro and Deeper elements, whilst resorting to old-school vibes inspired by EDX and earlier deadmau5 material.

We've had the pleasure to have a chat with Bradley to get to know him better and reveal his favourite things in life.
Hi Bradley, thanks for sitting with us today. We've got some Top 3 questions for you here…

Top 3 all time tracks
'Cthulhu Sleeps' by deadmau5

'Reckless Ardor' by EDX

'Avaritia' by deadmau5

Top 3 all time DJs
Zane Lowe – I saw him a few years ago when he supported deadmau5 on his UK tour, and I have never seen a DJ mix so many genres of music, and pull it off! Rock, Drum and Bass, Rap, Reggae and Electro – all mixed together perfectly as if AC/DC, House of Pain and Tiesto knew they would be used in the same set when creating their tracks.

Kill The Noise – He will take into consideration every aspect of a song to create the perfect mix. Every transition between tracks is completely different but always works – he just knows exactly what he's doing.

Pete Tong – When working as a pizza delivery driver on a Friday night, I would "get a bit lost" on a delivery to listen to Pete Tong playing the best dance music in the world on Radio 1.

Top 3 singles in 2015 so far
'Darkside' by Firebeatz
'Strike' by KOAN Sound
'Do It Like This' by Platinum Doug

Top 3 DJs in 2015 so far
Don Diablo – One of my favourite remixes so far this year is Don Diablo's of 'Fester Skank' by Lethal Bizzle, and he seems to be on a role this year with a number of great releases.

Jack Ü – Although I'm not overly impressed with their album, they definitely put on one of the best shows. Just from watching clips of their sets, you can see just how incredible they are at making the crowd pumped.

Michael Woods – He has always been one of my favourite DJ's and producers. Like Jack Ü, he seems to really pump the crowd up and knows exactly what they want.

Top 3 vocalists
Sam Smith – He's taken the world by storm over the past 12 months or so, but my favourite track of his is still 'Latch' by Disclosure – insane range. I also really like a track he did with Nile Rodgers, Jimmy Napes and again Disclosure – 'Together'.

Jay Z – I've never been really into the rap/hip hop scene, but Jay Z has a lot of talent and passion for his music and I think everything he releases is just on a completely different level to other mainstream rappers.

Ed Sheeran – A fellow ginger and an incredible singer and performer. I remember a few months ago, he performed 'Bloodstream' live on TV and was using samplers and loop machines to layer the different elements of the track live and, if I'm honest, I preferred the live version to the new Rudimental version!

Top 3 productions from your own catalogue
'Breakthrough' – although even now I listen back to it and think "I should've done this and that", I really like the melodies that I used. Simple yet catchy for me.

My new track 'Lynch' that will be out on the 21st May on Beatport!

Another new track of mine called 'Tommy Gun' that I previewed on my Facebook page – coming soon…

Top 3 plug-ins in your production setup
As a Reason 8 user, I use Propellerhead's Rack Extensions!

ReQ131 31 Band EQ from LAB ONE Recordings because of its precision and control

The Echo that comes included with Reason provides some great effects, particularly the option to trigger or roll the effect that make it easy to experiment.

Another favourite of mine that comes with Reason – the Thor Polysonic Synthesizer. From the day I downloaded my first copy of Reason, I've used the Thor synth in so much of my work as it has a great sound, along with some brilliant effects, and the overall layout of the synth works really well for me.

Top 3 music genres
Tracks that lie between electro and progressive house has always been my favourite. I like listening to complex, yet catchy melodies and hearing them build and develop, but then you can't beat a fat, bass-filled chorus!
Always had a soft spot for the glitch-hop style stuff that KOAN Sound produce. It's hard to put KOAN Sound in a genre because they're just their own, so whatever genre you would class them as, that's the genre I enjoy!

Since I was about 10, I've been a fan of the Arctic Monkeys and The Kooks, and I still listen to a lot of their alternative rock stuff now.

Top 3 artists you'd like to collaborate with
Deadmau5 – To see how he works and what his process is. His music is always so well polished and perfected, and it would be amazing to see the thought process behind his tracks.

Feed Me – In my opinion, he creates some of the best electro house music, so I would love to see how he works and what kind of plugins and equipment he uses… Plus he's just ordered a Ferrari 488 so he might be kind enough to take me for a spin.

I've always liked the energy and mood of his music, so my 3rd choice would be Example. As a teenager, I would listen to anything that had his name in the title, and he just seems like a really fun guy to work with!

Top 3 foods
You cannot beat a Chinese takeaway on a Friday night!

What does come close to Chinese takeaway though is a Domino's pizza, with garlic bread and chicken stripers
Chocolate pop tarts. Stick a couple in the toaster with a cup of coffee. Perfect.

…Not the healthiest choices if I'm honest.

Top 3 vacation spots
Tenerife was my first ever holiday, so I will always remember that place!

Been a dream of mine for a while to go to New York and watch a New York Knicks game at Madison Square Garden, so fingers crossed I'll be able to go there soon (and fingers crossed the Knicks don't play like they did this season)

I've been to London a couple of times and I love the liveliness and energy that the city has. It's overwhelming at first how busy the place is, but it's part of the experience! Plus, it's a great place for some retail therapy.

Top 3 things you'd take with you on a desert island
Sun tan lotion. As a ginger, I cannot be dealing with the irritation of sun burn, even in a life and death situation!

An experienced pilot

A fully-fuelled plane

Top 3 things you'd buy if you win the lottery
A Lamborghini Aventador
My mom and dad whatever they want to say thank you
Another Lamborghini Aventador… Because I can.

Top 3 quotes/mottos
"Amateurs built the ark, professionals built the Titanic"

"Work until you no longer have to introduce yourself"

"The greatest pleasure in life is doing what people say you cannot do"


Thanks Bradley!