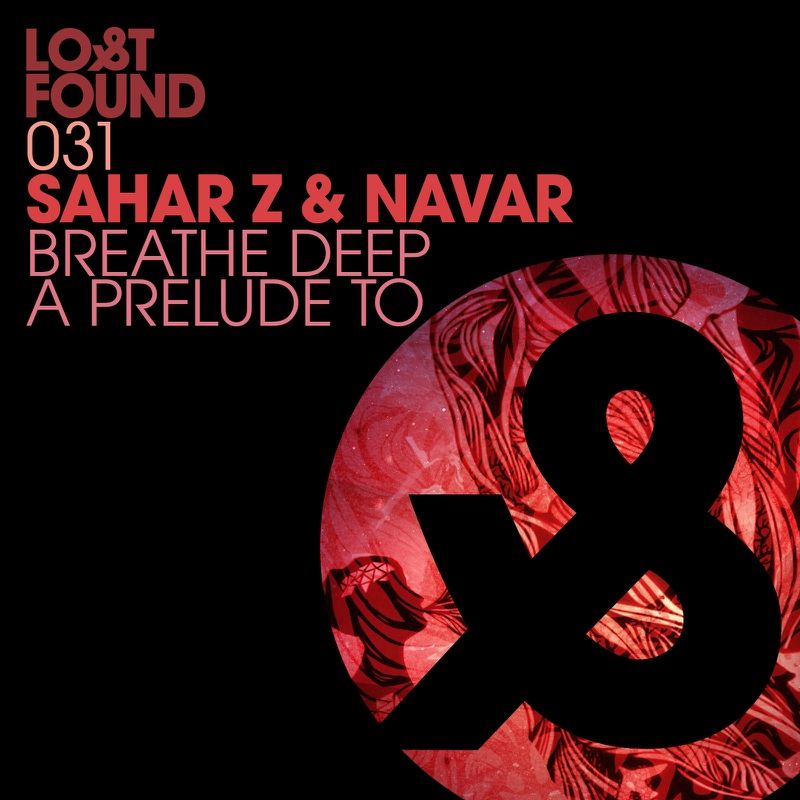 Sahar Z & Navar - Breathe Deep
It is always an exciting prospect when two exceptional artists, with the ability to create totally enthralling dance music, come together in the studio. Sahar Z and Navar are two like-minded souls – both inspired by a broad range of different genres that are reflected in their combined musical style – a style that can be best described as deep, melodic, hypnotic and most definitely danceable. Guy J's Lost & Found label is set to raise the bar yet again with another amazing meeting of musical minds.
''A lesson we all can learn when it comes to breathing deeply, it's about staying mindful – to breathe is life! When we created this track we really felt this same thing as we both imagined it. The tripping moment, the sun and the moments we will and have enjoyed so far!'' – Navar
The subtle, intricate layers of hypnotic excellence that build joyously throughout 'Breathe Deep' create a mantra for a very special journey that ebbs and flows to perfection. Meanwhile, the spiralling, bass-heavy rhythmic experimentalism of 'A Prelude To', with its deeply delicious, subtly evolving melodic vibes, exhibits an entirely different, yet no less enthralling exotic energy. What you have here are two gloriously different pieces of music that fuse together two immense creative forces.
"Since day one, when we met at Paradigm back in 2013 we felt this magic connection between us, accompanied by the desire to share and explore our feelings through music together. Since we come from different living environments and cultures, we tried to combine those different experiences and emotions to create one big piece of music! Prelude usually describes some fleeting emotion, from the lowest to the garden bursting joy…we think we succeeded! J" – Sahar Z
Legendary Tel Aviv-based DJ, Sahar Z, a long time veteran of the global techno-house scene, has also emerged as one of Israel's finest musical talents. His previous releases on Lost & Found are future classics, perhaps none more so than the critically acclaimed "Time" LP (LF017), created in collaboration with Guy Mantzur. Not limited by any genre or style, Sahar's unique sound transports audiences through a journey of atmospheres and moods, from deeply melodic sounds and fresh electronica to harder yet soulful techno.
Navar (or Eelko Wijnja to his family and friends) can be best described as a real studio junkie. Since he first delved into the mysteries of music production at the tender age of 13, this young man from Friesland in the north of Holland has quietly been learning his future trade. His prodigious talents were spotted early by Guy J, who was quick to sign up a selection of stunning tracks for Lost & Found in 2013 – 'Le Paradigme' (LF008) and 'Found01'(LF011). For the past two years Navar has been delving into deeper sounds, to explore different sides of his creativity, realising that there is so much more to discover. Now, the next chapter is about to begin.
"The music I make always combines the reflection and experience I took from that moment. The pinnacle is when a dream comes true into the music, like a cloud full of the things you are going trough, no matter if this is good or bad, that is the essence of what I like to show in my music." – Navar
Exciting times lie ahead. With another EP already completed, Sahar and Navar are set to build on the creative momentum around their exciting collaborative project. On 14th August 2016 they will play the opening set (4 hours B2B) in the Lost & Found tent at Paradigm Festival in Holland (http://paradigm-festival.com)
Lost & Found is steadily building a catalogue of releases that are uniquely joyous, uplifting, intelligent and beautiful. This is music to hold close to your heart and this is a label that everyone should, most definitely, always keep on their music radar.
Label Information:
https://www.facebook.com/guyjlostandfoundrecords/
http://soundcloud.com/lostandfoundrec
http://www.beatport.com/label/lost-and-found/27599
http://www.facebook.com/guyjofficial
Sahar Z:
https://soundcloud.com/saharz
https://twitter.com/djsaharz
https://www.facebook.com/Sahar-Z-227121677365914/