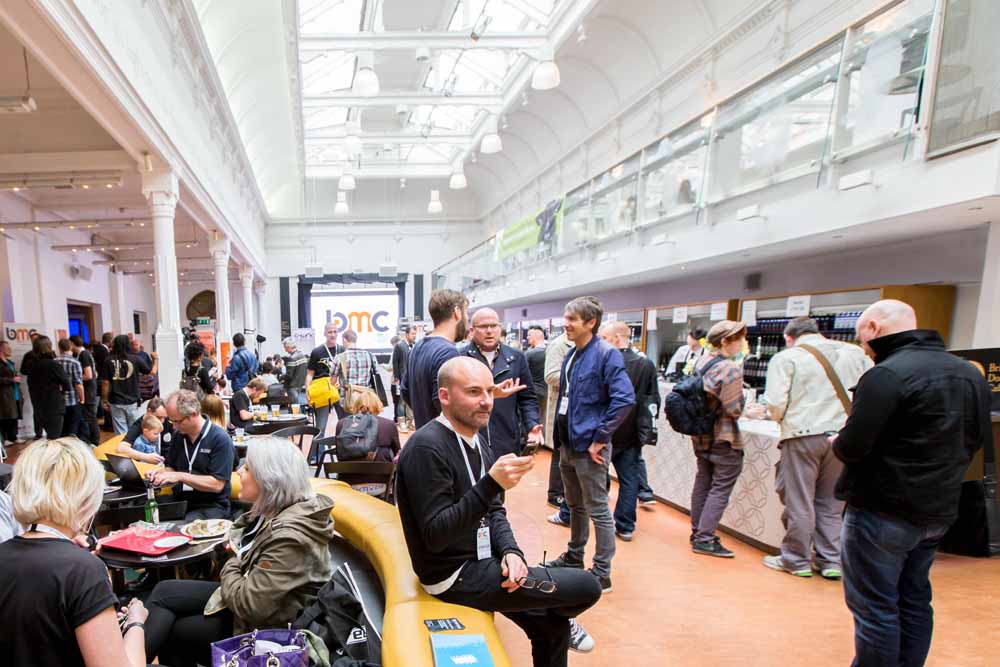 Brighton Music Conference announces first 2015 parties
BMC (Brighton Music Conference) has revealed the first of its 2015 event parties, featuring an array of electronic music talent for the two-day event held on 5th & 6th June.
DJs and promoters already lined up include Dave Clarke, Steve Lawler, Tom Demac, Nick Hoppner, Alex Banks, Max Wheeler, Wiggle, C-Soul, Robert Owens, SEFF, Phil Kieran, Rebekah, Ralf Kollmann, DIY, Alex Arnout, A Skillz, Evil Nine, Back To Basics, JFB and many more.
The events will take place across the city, with clubs and venues involved including the recently opened Patterns, Neighbourhood, The Tempest Inn, The Arch, The Hub, and beyond. Access to Music will host the first official BMC Under 18s party, a free event reflecting the conference's position as the only type of electronic music event that caters for students and the next generation of creative and business talent.
Across the Friday and Saturday nights, with some of the networking events taking place from the afternoon onwards, these events will be free to BMC Professional pass holders on a first come, first served basis. Full details on both pass categories follows below.
New additions to the extensive programme of panels and discussions include Russ Yallop, Luke Solomon, DJ Pierre, Spotify's Glenn McDonald, Mark Broadbent, WarnerMusic's Anton Partridge, Judge Jules, Robert Owens, John Truelove, Deep House London's Marcus Barnes, and Ralph Moore. Details on the programmes, hosts, topics, and panellists follow below.

Friday Networking
Believe Digital – Neighbourhood
5pm to late.

DJs include Murder He Wrote, Leigh Morgan, Lucatwana, Billson & Noah Hope, with others to be confirmed. Music, food and drink from Believe. 5pm to late.
Patterns – DJ Mag Networking
Mick Fuller http://www.brightonsoul.info/
Jason Pepperell http://dj.beatport.com/jasonpepperell,
DJ Mag all stars https://www.facebook.com/pages/DJ-Mag-Allstars/212227885479088
Ralf Kolmann http://www.residentadvisor.net/dj/ralfkollmann
Beatsworkin http://www.residentadvisor.net/dj/beatsworkin
5pm-4am
Tempest Inn In_series Presents in association with BMC
Alex Arnout (Dogmatik Records)
Rick Maia (FACT/Kina/Serkal)
Sie Medway-Smith (Mute Records/Mo Wax/Pussyfoot Records)
Alex Jann (Theremin Records/Mu.Too)
Adrian Pickard (In_series)
Immon Talebian (Loop Deville/Bad Tempo)
6pm-late.
The Black Lion Dedicated Player Presents
Soulpersona" (SPR) & Jeff Daniels (Dedicated Player)
9pm-3am
Mistys – Therapy presents BMC Party
DJ's Elusive, Matthew Matheson + Special Guests
9.00 – 2.30
Friday Evening
Patterns – The Official DJ Mag BMC Party
Dave Clarke
Rebekah
Tom Demac
10:30pm-4am
https://www.facebook.com/events/1047603835268998/
http://www.residentadvisor.net/event.aspx?702591
Techno don Dave Clarke, dubbed 'Baron Of Techno' by John Peel, headlines this very special event — the former Brighton resident consults for both the Amsterdam Dance Event (ADE) and BMC, and remains one of Europe's biggest DJs. He's supported by Hypercolour hotshot Tom Demac; Ralf Kollmann from Berlin techno-house label Mobilee; techno gal DJ Rebekah, from Chris Liebing's CLR imprint; and party legend Dave Beer of Back To Basics fame. And that's just for starters…
Saturday Networking
Neighbourhood – Inflyte & Generator NI presents….It's Grim Up North, An Electronic Showcase from Northern Ireland.
Phil Kieran (PKR)
Psycatron (Planet E)
Schmutz (Dirt Crew)
Sharooz
Swoose & Cromby (Extended Play)
Timmy Stewart (Extended Play)+ special guests
5pm-7pm
Sound by Funktion One
For more information see the BMC website and www.inflyteapp.com and www.generatorni.com
Tempest Inn – Ableton Presents Brighton Artist Showcase
in association with BMC and Brighton Ableton User Group
Evil Nine (Marine Parade/For Lovers/Punks)
Alex Banks LIVE (Monkeytown Records)
Max Wheeler LIVE (Anushka/Brownswood Recordings)
Adrian Pickard (In_series)
Alex Jann LIVE (Mu.Too/Theremin Records)
EONE LIVE (Numerology Records)
+ more TBC
6pm- Late.
After 14 years touring the globe, two albums, countless remixes, features in Hollywood movies and a Fabric Live compilation and residency; Pat Pardy and Tom Beaufoy have been creating genre defining music that's seen them continually stand out from the crowd, from their early Marine Parade days until the present.
Evil Nine will be headlining Ableton's Brighton Artist Showcase on Saturday 6 June at The Tempest Inn. The event is presented in association with BMC and Brighton Ableton User Group.

Al Duomo – Wiggle On The House Wiggle , DIY, RvS Music
Magnus Asberg (On The House)
C-Soul Live (On The House)
Nathan Coles(Wiggle)
Terry Francis(Wiggle)
Evil Eddie Richards(Wiggle)
Joe Volpeliere(On The House)
Asadinho (RvS Music)
Paul Soul(RvS Music)
Digs&Woosh(DIY)
Andy Riley(Toka-Project,Inland Knights,Drop Music)
Liz Edwards(Kerfuffle,Ed's Vinyl
Danijel Alpha(H-Production,Jungle Experience,Koh Phangan)
Simon Atkinson(Positive Sounds)
Matthew Bandy(Limestone Recordings)
James Thomson(Ornate Records,Juno)
4pm-6am
After last year's killer Wiggle session at BMC, On The House are bringing back tech-house's leading players for another very special party. As well as Fabric resident Terry Francis, Wiggle cohorts Nathan Coles and Eddie Richards, plus OTH mainman Magnus Asberg, this year sees Chicago legend Robert Owens joining the party for an exclusive classics set, with the man himself performing live vocals for the tracks that have ensured his place in house music's hall of fame.
https://www.facebook.com/events/1626623520903895/
http://www.residentadvisor.net/event.aspx?703738

Merkaba (myHotel) – Colour & Pitch presents: BMC networking event Hosted By
Sumsuch (5 Magazine Chicago, BBE)
Finest Wear (Mr Cenzo, Mididropmusic, London)
8pm-1am

Saturday Evening
The Arch – BeAvantGarde presents Steve Lawler official BMC closing party
Steve Lawler VIVa MUSic
Munir Nadir b2b Alex Dima (Outcast Djs)
Manfred Spagnoli b2b Merc Russo (Beavantgarde)
Just:Because (Beavantgarde)
11pm-7am
https://www.facebook.com/events/847979771914250/
www.residentadvisor.net/event.aspx?698324
http://www.skiddle.com/whats-on/Brighton/The-Arch/BeAvantGarde-presents-Steve-Lawler-official-BMC-closing-party/12381946/
You would be hard pushed to find a more in-form, in-demand, exceptionally talented artist than Steve Lawler, regarded as highly by his industry peers as he is by his huge global base of musically educated fans. Dynamic, driven and drastically obsessed with performing as well as he possibly can Steve's passion for House, Techno and Electronica is too strong for one simple generic association, and right now his message is louder than ever.
The Hub – OBERRES
SEFF (Hot Creastions, Viva Music)
Trash You (OFF Recordings)
NO Twin (Madtech)
Sean Branton (White Label &Jack Jonez)
10pm-4am
Oberres Brighton's leading house and techno night, on Saturday June 6th Oberres welcomes man of the moment SEFF who will be making his Brighton debut, with having huge releases on Hot Creations and Viva Music SEFF has just been announced as part of the Viva Warriors family for the upcoming Ibiza season at Sankeys.
We are also very pleased to welcome OFF Recordings Trash You and Madtech No Twin.
https://www.facebook.com/events/1422936521344001/
http://www.residentadvisor.net/event.aspx?697033
http://www.skiddle.com/whats-on/Brighton/The-Hub/Oberres/12394646/
Patterns – Nick Hoppner
Komedia – Battle Jam
JFB https://www.facebook.com/turntablistdj
A Skillz https://www.facebook.com/pages/ASkillz/418818761514826?fref=ts
Brighton Youth Centre – BMC Official Under 18s After Party
Access to Music are hosting BMC's first, official, U18's After Party and teaming up with Audio Active, BYC and DAJ Audio to bring a line-up of Brighton's best up and coming digital and electronic talent. Access to Music is a music and media specialist college providing training in Music Technology, Digital Music, Music Performance and more.
https://www.facebook.com/events/1572369819684582/