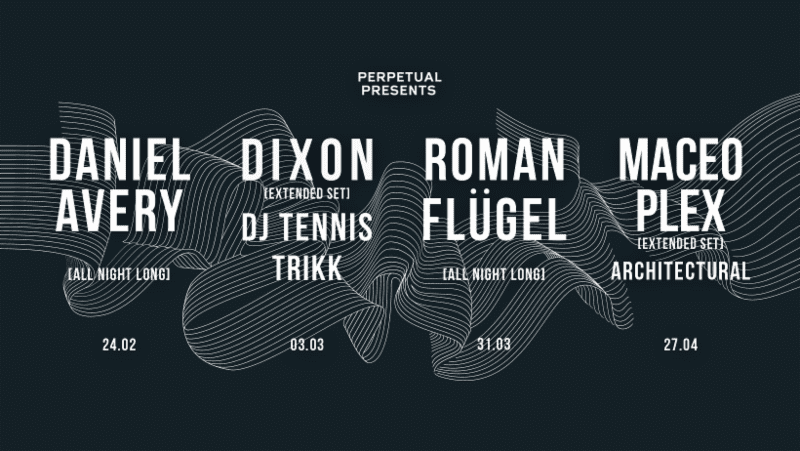 Bristol's Motion launch Perpetual
Bristol's most influential underground clubbing venue, Motion, are excited to announce their new in-house event series, Perpetual. Set to showcase some of the most exciting and respected names across the house and techno spectrum, Perpetual will bring an array of highly esteemed acts to the Bristol hub.
All events will be held in the clubs brand new Marble Factory space, with a crisper soundsystem and upgraded immersive lighting.
Following his sold out Bristol show in 2016, Daniel Avery will kicks things off with an all night long set on Saturday 24th February. Over the years Dan has become a master of his art, fine tuning his instantly recognisable sound into the sonic techno powerhouse that he is today. When Daniel plays for an extended period of time he never fails to amaze, transcending the dance floor with a mix of propelling techno and hard-hitting house cuts. Expect an electric atmosphere with cutting-edge selections in techno and indefinable obscurities.
Next up, Saturday 3rd March welcomes an artist who's held the Number 1 spot in the Resident Adviser DJ Poll for four years in a row, Dixon. His ability to fuse together many styles of dance music is evident by his talent as a DJ and position at the forefront of electronic music. Having admired the work of Innervisons for many years and experiencing lasting memories on the dance floor on many occasions with Dixon at the helm, Motion are incredibly excited to announce that he will be playing an extended set as part of Perpetual, alongside DJ Tennis and Trikk.
After devoting almost his entire life to music, it's no surprise that Roman Flügel is one of the biggest names in the German electronic music scene. His sets forge a unique path through 20 years of contemporary music, from glitchy house and quirky techno to futuristic Italo-disco and electronica. On Saturday 31st March, Flügel takes control of the third show of the Perpetual series, playing all night long.
There are very few people in the world who are true masters of their art, Maceo Plex, is without a doubt one of the hardest-working electronic artists in the game. He began conjuring up mixes of techno, electro, and, house music that quickly gained him great popularity in the early '90s rave culture. The musical machine now DJs, produces, runs record label 'Ellum Audio' and party series 'Mosaic by Maceo'. Maceo Plex's musical knowledge and unstoppable, genre-spanning production always revolves around his dedication to futurism and crafting sounds that continue to destroy dance floors wherever he is. Maceo Plex plays an extended set as part of the Perpetual series on Friday 27th April.
Tickets are available on Friday 19th January from 10am via www.perpetual.eventgenius.co.uk
PERPETUAL LISTINGS
SATURDAY 24TH FEBRUARY | Daniel Avery (All Night Long)
SATURDAY 3RD MARCH | Dixon (Extended Set), DJ Tennis, Trikk
SATURDAY 31ST MARCH | Roman Flügel (All Night Long)
FRIDAY 27TH APRIL | Maceo Plex (Extended Set)