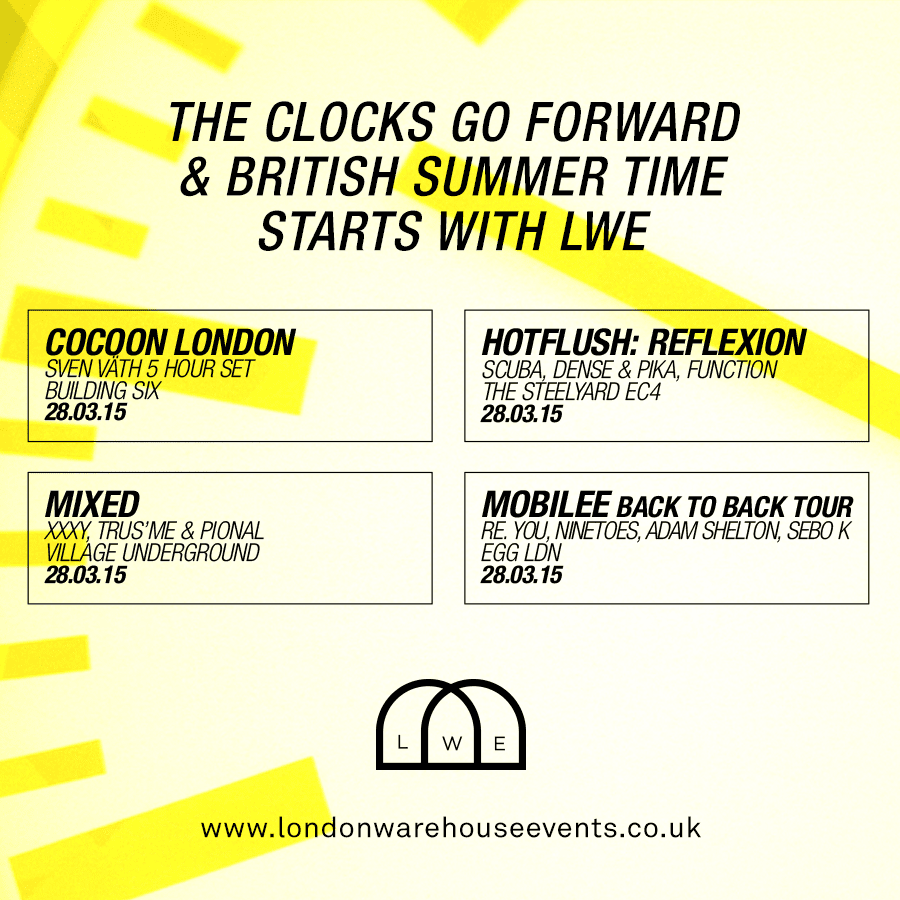 British Summer Time Starts with LWE
British Summer Time is well and truly on the horizon! On the 29th March at 02:00 on Sunday morning the clocks will change, and this will mean that summer is officially here – You'll have a bit more time to play in the sun after work ☺. To bring in the best time of the year LWE are celebrating with 4 events to mark the start of the new season; and wave goodbye to the cold… hopefully!
Take a look at what is in store – which one are you going to?!
Cocoon London at Building Six
Sven Vath will play a 5 hour set that will leave us dreaming of memories from summers long since past, and those unforgettable early morning sunrises. With Markus Fix and Dorian Paic also on the bill, plus rhythmatic hosting room 2 with special guest's Steve O'Sullivan, Andy Luff and Daylomar this is going to be quite a party. Ibiza reunion? NO the season starts now!
Hotflush Presents… REFLEXION at The Steelyard
After a hiatus of over a year, Scuba will be bringing Hotflush back to London; and with that a lineup that's certain to give goosebumps. To make even more special it will be at The Steelyard, a new venue that perfectly balances warehouse grime with a structural and architectural elegance. Function is one of those producers that has been around for a while, keeps himself to himself and always draws out the true heads. Dense & Pika have become one of the highly respected production, Dj and more recently live acts to have come out of London in years, 2015 can only get bigger for them. Joining this lot will be label manager Jack Haighton, who's pretty handy on the decks too!
LWE presents Mobilee b2b Tour at Egg London
Mobilee return to Egg London on the 28th March to finish off their Back to Back tour with a selection of its finest producers that feature on their latest compilation. Headlining is a man who's enjoyed a meteoric rise in recent years, the very talented Re.You. With his renowned live show with Rampa going from strength to strength and releases on Cocoon as well as mobilee, the prolific producer is certain to bring the goods. A very tasty lineup indeed and in the perfect spot to finish off a prolific tour for the Berlin outfit.
LWE presents Mixed at Village Underground (10pm – 4am)
Keeping up the momentum from the first two hugely successful parties, Mixed returns for round three at one of East London's finest industrial party spaces – Village Underground. For this one we've called on a selection of artists that are just as comfortable behind the decks as they are in the studio. PNR records head honcho Trus'me will bring the sounds of his critically acclaimed album, XXXY will bring the vibes that have made him a champion on the airwaves at Rinse FM and finally we have Pional who has released on the likes of Hivern Discs & Young Turks, whilst also remixing the likes of Jessie Ware.