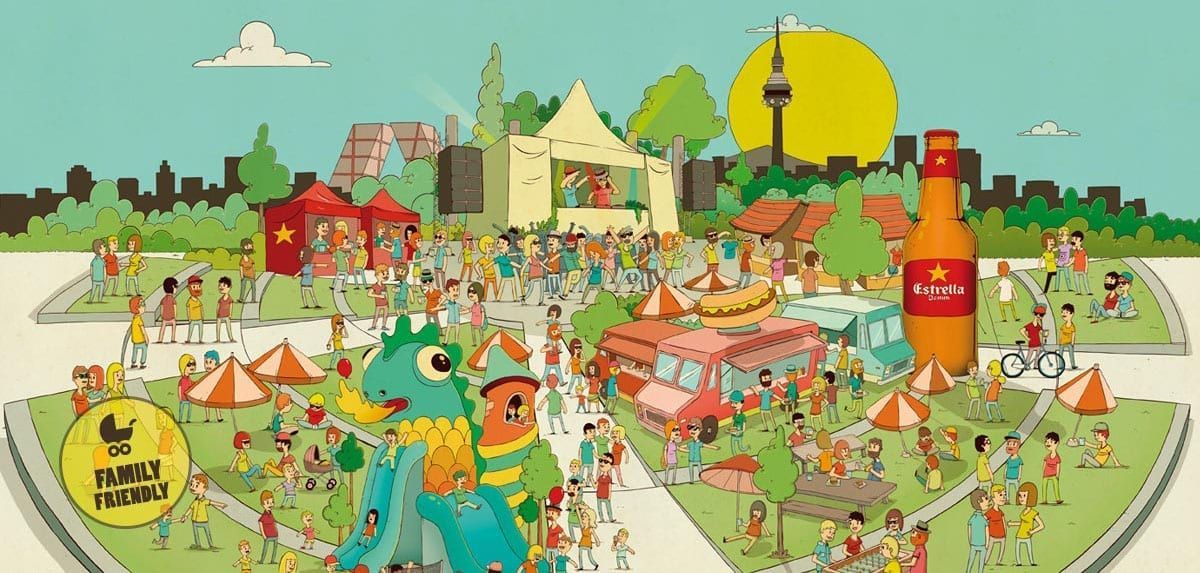 Brunch-In the Park returns to Madrid
Brunch-In the Park returns to Madrid from June 4 to July 16.
The event will be celebrated for the second time in the capital city, comprising seven dates and a bill headlined by Jeff Mills, Magda, The Martinez Brothers, Jennifer Cardini b2b Danny Daze, Agoria, Oxia, Dj Koze and Erol Alkan, among others
Following the success of the first edition in 2016, Brunch-In the Park returns to Madrid's Enrique Tierno Galván Park with seven new dates, three more than last year's. Every Sunday from June 4 to July 16, Brunch-In the Park will provide electronic music lovers with a chance to change Sunday's film-and-sofa plan for a combination of leisure and culture also including children activities soo the whole family can enjoy it together. Among this edition's outstanding artists are Jeff Mills, Magda, The Martinez Brothers, Jennifer Cardini b2b Danny Daze, Agoria, Oxia, Dj Koze and Erol Alkan. Madrid will be flooded with the best international, national and local electronic music scene.
Every Sunday, A Different Story.
As it is usual, Brunch -In the Park's seven dates will each revolve around a different concept.
The festival will open its doors on June 4 with a bill curated by Red Bull Music Academy's always reliable taste. Top of the bill is techno wizard Jeff Mills, one of Detroit's most respected Dj's and producers. Before him Dasha Rash and her avant-garde, elegant techno, so characteristic of her particularly strange and complex world, will take the stage.Spanish artists Psyk and F-on will comes earlier on the day at Parque Enrique Tierno Galván representing the techno local scene.
On Sunday June 11 Brunch –In the Park welcomes Geist's showcase, a formula that has been tremendously successful in Barcelona. Magda, who forged a career in Richie Hawtin's label, Minus, stands at the top of a bill also featuring the live performance of the celebrated Mathew Johnson, a one-of-a-kind artist whose work sounds like no one else's, as if he had applied a specific filter to his music. Also on the bill is Maayan Nidam, an ever-changing artist who is always challenging her musical boundaries, both in her Berlin studio and on stage; and Curses, the dark alias of New Yorker Luca Venezia, who will delight us with his mix of electronic music with his rock'n'roll roots.
June 18 is a very special date as the bill features the showcase of The Martinez Brother's label Cuttin 'Headz. The Bronx-born duo will headline a day with a session that will prove why their name has found a place among the world's best house proposals. Also in the bill are Guti, a techno and house master deeply rooted in Argentina's love for rock and jazz, and Dan Ghenacia, the undisputed pioneer of Paris's underground scene and one of the most international French Dj's. Before them come Narol MarGo's deep house and tech house combined with more organic sounds including Nu Disco or Space Boogie, and Jesse Calosso, a Bronx-born Dj and producer close to The Martinez Brothers.
On Sunday, June 25, Brunch-In the Park is pleased to present a Correspondant showcase. Label's owner Jennifer Cardini will be doing a b2b with Danny Daze, a Miami studio nerd with a refined taste for electronic music that has become a prominent figure in today's underground scene. Marvin & Guy's famous groovy techno will open for this unusual pair. The bill also features the live performance of Moscoman, accompanied with a live band to deliver a sound that is at the juncture of techno, new wave, house and his native Middle East. Javi Redondo, a Correspondant regular, will open the day.
Brunch -In the Park opens on July 2 with Erol Alkan, a successful and versatile Dj, remixer, promoter, host and founder of the Phantasy label. Before him Factory Floor will play live their latest album 25 25, a mesmerizing dance piece full of percussions and fragmented melodies. Avalon Emerson's passion for new wave and futuristic techno mixed with American house and rave exuberance will open for the trio. Fairmont's powerful live which will include his Ep Carthage is another of the highlights of a day that will be opened by the Balearic-influenced, synth disco of Madrid-born JackWasFaster.
On July 9 Brunch-In the Park will feature the showcase of Agoria's label Sapiens. Headlined by Agoria, he will bring the best techno and house currently being published on his label, including Oxia, a regular companion in the cabin who carved out a name of his own since the release, in 2006, of the generational electronic anthem 'Domino'. UK-born LA-based Eagles & Butterflies, famous for covering all the electronic spectrum, will open for them. Sugar Free, one of today's most-talked-about producers in Berlin, will inaugurate the day.
On July 16, Brunch-In the Park Madrid will close this second season with the showcase of a house music favourite: Pampa Records. Boss Dj Koze will be closing this day with his usual mix of house, electronic music and hip hop. Before him comes Die Vögel's live with performances included. Ada, a Pampa Records regular, and Madrid-born Alvaro Cabana and owner of Rotten City Records, round off the bill.
Petit Brunch
As a family-friendly event, one of the distinguishing features of Brunch -In the Park and one of the highlights of the first edition is the wide variety of fun and unconventional children activities for parents who wish to share their passion for electronic music with their children. The small brunchers will be the main protagonists of the early hours of the day with activities including trampolines, table football and several ball sports while the Dj's start playing, inflatables, Yoguitos –yoga for children—, face painting, balloon twisting, recycling and modeling workshops as well as juggling or and hula hoop classes. All this from 12 noon to 6pm, after which children and their legal guardians must leave the space.
Every Sunday there will be a different selection of food trucks for those wanting to attend the event at the Enrique Tierno Galván Park on more than one occasion. In addition, following the festival's environmentally-friendly philosophy, attendants will be given Re-Cups, reusable glasses that account for over 80% of waste reduction in the festival's premises.
Brunch -In the Park: Philosophy
Imagine a travelling brunch capable of turning Sundays into your favorite day of the week. Brunch -In the Park offers an original combination of gastronomy, music and children activities, a formula whose success is backed by the more than 20,000 brunchers who attended the first edition of Brunch -In the Park Madrid in September and October last year.
Brunch -In the Park Madrid
Dates: 04/06 – 11/06 – 18/06 – 25/06 – 02/07 – 09/07 – 16/07
Venue: Parque Enrique Tierno Galván
Tickets: Tickets from 11€
Petit Brunch 5€
Line-up by day:
04/06/17 – RBMA presents: Jeff Mills + Dasha Rush + Psyk + F-on
11/06/17 – Geist: Magda + Mathew Jonson Live + Maayan Nidam + Curses
18/06/17 – Cuttin' Headz: The Martinez Brothers + Guti + Dan Ghenacia +Jesse Calosso + Narol MarGo
25/06/17 – Correspondant Showcase: Jennifer Cardini b2b Danny Daze + Marvin & Guy + Moscoman Live Band + Javi Redondo
02/07/17 – Erol Alkan + Factory Floor Live + Avalon Emerson + Fairmont live + JackWasFaster
09/07/17 – Sapiens Showcase: Agoria + Oxia + Eagles & Butterflies + Sugar Free
16/07/17 – Pampa Records: Dj Koze + Die Vögel Live + Ada + Álvaro Cabana