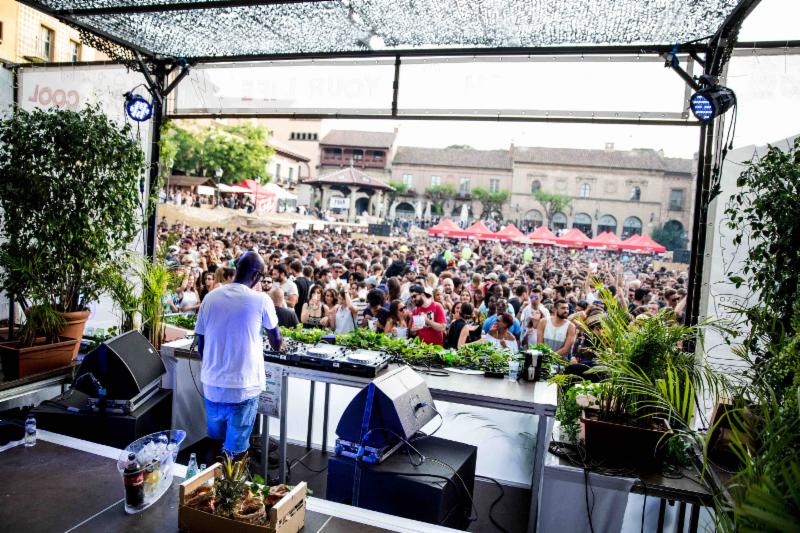 Brunch In The Park Reveal Full Lineups for Lisbon, Madrid and Valencia
Reinforcing their position as one of Europe's elite electronic music events, Brunch -In The Park returns in with a stunning roster of unmissable shows across July, August and September 2018. As well as spanningBarcelona, Lisbon and Madrid, this season will also take place in Valencia, establishing the brand in the some of the world's most exciting and diverse cultural cities.
Across all their locations, Brunch set a shining example for events produced with true moral fibre; strongly promoting LGBT+ rights, upholding a '0-kilometre' policy for food venders to use only local produce, working with social food programmes to alleviate food poverty, developing an ever increasing roster of environmentally sustainable and beneficial incentives, and striving for equal gender representation across their lineups to showcase the myriad of female talent from around the globe.
VALENCIA
Brunch's debut fore into Valencia will see them bring three specials shows to The Marina of Valencia. Showcasing their lauded fusion of the finest music, gastronomy, design and activities, with fun for the whole family.
Taking place on 2nd, 16th and 30th September, each festival date will feature a programme of internationally acclaimed artists such as Maceo Plex, Roman Flügel, Âme, John Talabot, Edu Imbernon, tINI a and many more. Their Petit Brunch area will also feature across the shows, offering hoola-hooping, juggling, face painting, climbing walls and lots of other surprises to keep the littlest Brunch goers entertained.
Sunday 2nd September 2018
Maceo Plex
Roman Flügel
FiberRoot
Miss_tra
Sunday 16th September 2018
Âme
Edu Imbernon
tINI
ISAbella
Mike Gannu
Sunday 30th September 2018
John Talabot
Daniel Baughman
TBA
Full details for Brunch -In The Park Valencia can be found here: valencia.brunch-in.com
LISBON

Building on the monumental success of previous years and stretching across July, August and September, Brunch -In The Park Lisbon, located in the stunning surroundings of Tapada Da Ajuda, draws from all corners of the electronic spectrum with a breathtaking musical offering that includes headliners as wide-ranging as Paul Kalkbrenner, Dave Clarke, Amelie Lens, Black Coffee and Seth Troxler. Joined by the likes of Tiga, Motor City Drum Ensemble, Perel (Live), Palms Traxand many more, each glittering bill unites an array of established names and newer blood to make for an unmissable season.
In addition to an exciting partnership with NEOPOP festival, Brunch -In The Park Lisbon boasts an extensive food selection, with delicious and diverse cuisines from around the world on the menu, while guests can browse a market for crafts, clothes and accessories. Games, face painting and inflatables will keep Petit Brunchers occupied, while the festival continues the Re-Cup system that reduced its waste by 80% last year.

FULL LISTINGS:
Sunday 29th July 2018
Paul Kalkbrenner, Gusta-vo, SININHO
Sunday 5th August 2018
Amelie Lens, Farrago, Tiago Fragateiro, Sonja
Sunday 12th August 2018
Life and Death Showcase, John Digweed, DJ Tennis
Perel (Live), Mafalda
Sunday 19th August 2018
Dekmantel Showcase, Motor City Drum Ensemble, Palms Trax
Dekmantel Soundsystem, Ruuar
Sunday 26th August 2018
Dave Clarke, Vitalic (Live), Fairmont (Live)
Violet, Vil & Temudo
Sunday 2nd September 2018
Black Coffee, Da Capo, Enoo Napa, RUIi TRINTAEUM
Sunday 9th September 2018
Agoria Invites, Agoria, DJ Vibe
Serginho, Analodjica
Sunday 16th September 2018
Seth Troxler B2B Tiga, Gusta-vo & HNRQ
Caroline Lethô
Full details for Brunch -In The Park Lisbon can be found here: http//:lisboa.brunchelectronik.com
MADRID
Sundays at Enrique Tierno Galván Park belong to Brunch -In The Park Madrid once again, as a plethora of electronic titans are locked in from Sunday 23rd September to Sunday 21st October. Innervisions founders Dixon and Âme, Detroit legend Derrick May and much-revered selector Noisia are eye-catching additions across an extraordinary five weeks.
Alongside leisure activities for Petit Brunchers, Brunch -In The Park Madrid continues to deliver on its pledge of local, healthy food selection, as well as exploring different ways to support nearby neighbourhoods through conservational, cultural and educational methods. The festival has also announced 'A Day Against Homophobia', a initiative to support the LBGTQ+ community and boost inclusiveness at events.
FULL LISTINGS:
Sunday 23rd Sunday 2018
Dixon, tINI, Trikk, Alvaro Cabana
Sunday 30th September 2018
Tiga, Agoria, Edu Imbernon
Mike Gannu B2B Indira Paganotto
Sunday 7th October 2018
Âme, Henrik Schwarz, Saoirse, Javi Redondo
Sunday 14th October 2018
Patrice Bäumel, Gui Boratto, Michael Mayer
Marvin & Guy
21st October 2018
Derrick May, Dubfire, Nastia, IVA
Full details for Brunch -In The Park Madrid can be found here madrid.brunch-in.com/