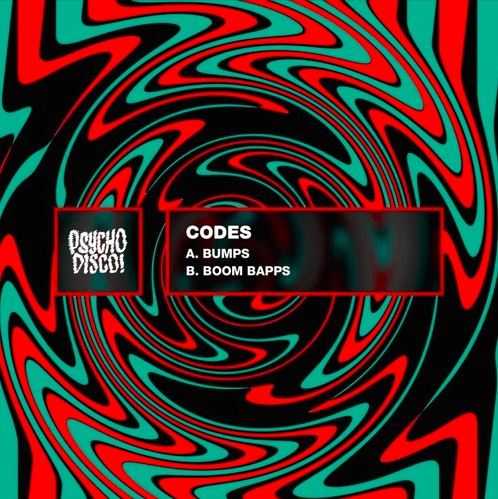 Codes - Bumps EP
Brooklyn producer Codes is an agent of chaos on his masterfully crafted, wonky and wickedly absurd Bumps EP, out now on Atlanta-based Psycho Disco Records helmed by Treasure Fingers.
Codes' wonderfully twisted collection of musical oddities begins wtth the title track, "Bumps", the first downbeat kicks in around the one-minute mark with the most sinister and spine-tingling low end, casting a dark and trippy spell over the dancefloor with this smooth,groovy title track. Codes' "Boom Bapps" is a warm, woozy production with mischevious beats and time signatures, a steady kick and loopy synths along with trippy vocal samples that Codes describes as "liquid house hip hop jungle vibes". Lastly, "Bumps" gets the remix treatment from The Homie, wobbling that original funky low end into another galaxy.
Codes says of the release, "I've been sending music to and collaborating with Treasure Fingers for a long time now. "Bumps" was actually a completely different track at first. I went back in to do a heavier mix of it and this version was born. I thought it was a bit to hard for what I usually do but after playing it out a few times and seeing what it did in the club I knew I had to find the right home for it. I have a disco house throwback jam with Treasure Fingers that was suppose to be the next Psycho Disco release but he made the call to put this out first after saying how he shared similar experiences as "Bumps" being a highlight tune of his sets." Perfect timing also considering the EP's deep, ghoulish grooves and trippy, hypnotizing ambiance are perfect for your Halloween set.
Codes also prepared a new mix for the label's Psychic FM podcast which you can bump right here, and he'll be releasing a music video for "Bumps" with Treasure Fingers landing soon.
Tracklist:
1. Codes – Bumps (Original Mix)
2. Codes – Boom Bapps (Original Mix)
3. Codes – Bumps (The Homie Remix)