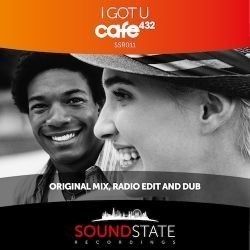 Cafe 432 - Cafe 432 – I Got U
'I Got U' is the stellar new slice of Soulful House from Soundstate Recordings' homegrown UK talent, Café 432. A heartfelt love song, 'I Got U' comes drizzled with a silky smooth vocal backed with delicious harmonies that glide through a platter of warm keys and funky guitar licks, underpinned by a classy groove. The pair have also delivered a groovy Dub Mix to round off this tasty package that's so ripe for Summer!
"This is the most Soulful joint we've ever written and we're buzzed about it!" – Jonsey
London duo Café 432 (aka Jonsey and Kevin McPherson) are no strangers to the music scene. Both have contributed hugely over the years, lending their talents to prestigious Hip Hop, UK Garage and House productions. Jonsey set up Bug Recordings in 1997 with Ramsey and Fen. His first release was 'Mad Changes' with MJ Cole in 1998 on the label. He's a proud owner of Platinum, Gold and Double Platinum discs for his work with UK No.1 artist Tinie Tempah on 'Pass Out' and No.2 with 'Frisky'. Under his De Funk guise, Jonsey also signed to INCredible (Sony Music) with 'Pleasure Love' in 1999.
Kevin and Jonsey go back to early 2000's, when they started working together as Soulstars productions on Soundstate Recordings, as well as other commercial projects. Their first Café 432 release was 'Waste My Time' with Marcelle Duprey, which was supported by Kerri Chandler among others. Kevin made his massive debut release under the guise Bon Garcon with 'Freek U' on Eye Industries/Ultra Records in 2005. He also boasts a few awards for his musical talents including Peter Andre 'Revelation' album (Platinum Sales Awarded) and Cliff Richard 'Can't Keep This Feeling In' Remix and Craig David 'Walking Away' (Stepchild Remix).
Track Listing
1 I Got U (Original)
2 I Got U (Dub)
3 I Got U (Radio Edit)
'I Got You' will be released on Traxsource Promo June 16th / Full release June 30th 2015.