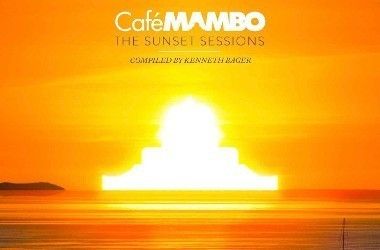 Café Mambo – The Sunset Sessions
Music For Dreams is releasing the first of three Café Mambo compilations on Sunday 7th July 2013 on CD, download and stream. Featuring tracks by Maria Callas, Richard Hawley, Raphael Saadiq, Apelsin, Takuya Matsumoto, John Heckle, Stimming and more.
Café Mambo – The Sunset Sessions is a 30-track album soundtracking the world famous sunset as celebrated on the terraces of the legendary Ibiza venue. The album has been compiled by esteemed Balearic, ambient and techno DJ/producer, Kenneth Bager (aka Dr Baker), the head honcho for Music For Dreams. Kenneth is also the promoter of Coma Club and the Apple Flower Festival in his native Denmark and will be exporting his stylish playlist from Copenhagen to Ibiza this summer. The series of weekly Sunday Music For Dreams parties at Cafe Mambo will feature special guest DJs and chefs. There will be a launch party for the album on Sunday 7th July featuring Hannah Schneider, Phil South, Jean Von Baden, Kenneth Bager and very special guests to be announced. Sunday Music For Dreams will also host DJs Kolsch, Leo Mas and many more to be confirmed.
Both discs of the new Café Mambo CD feature an eclectic selection of revered names from the likes of Maria Callas, Richard Hawley and Raphael Saadiq along with music from the movie 'Pina', to very rare obscurities from Apelsin and Takuya Matsumoto and new electronic talents like John Heckle and Stimming.
For 19 years, Café Mambo has been hailed as the place to be on the sunset strip in Sant Antoni, Ibiza. With an unrivalled reputation built via great guest DJs and the world famous sunset, the outdoor area hosts around 6000 clubbers every day and 12,000 passers-by. Some of the star names who regularly grace the decks at this legendary venue include Pete Tong, Swedish House Mafia, Carl Cox, Solomun, Bob Sinclar, Tiesto and many more.
Cafe Mambo – The Sunset Sessions 2013 is released by Music For Dreams on CD, download and stream on Sunday 7th July 2013.
http://www.musicfordreams.net
Tracklisting:
CD1
1. John Heckle Ode To SAW
2. Maria Callas Gianni Schicchi:O Mio Babbino Caro
3. Johann Johannson The Sun's Gone Dim And The Sky's Turned Black
4. Dusty Bacon & Vakula Follow Shot (V Groove Mix)
5. Mudd & Pollard Mawson's Walk
6. Olefonken Ubuntu Tutu
7. Jamie Woon Night Air (Ramadanman Refix)
8. Marcella Bella Nell' Aria
9. Jun Miyake Lillies Of The Valley
10. Rene Aubry Frenesie
11. Jacob Gurevitsch Lovers in Paris (Willie May Remix)
12. Homework Whipped Cream
13. The Kenneth Bager Experience Ft. Hannah Schnedier Never Ending
14. Kottarashky September
15. The Buggles Island
16. Richard Hawley Coming Home
CD2
1. Ragnarok Dagarnas Skum (Foam Of The Days)
2. Apelsin Igatsus
2. Raphael Saadiq The Answer
4. Outboxx Back To Phalon
5. Takuya Matsumoto Drafting Under The Stars
6. NOW NOW NOW Problem (Ensa Ella Afro Neukolln Edit)
7. Peter Visti Besos (The Kenneth Bager Remix)
8. Pitto Mono Desire Featuring Manu Delago
9. Stimming November Morning (Brandenburgisches Staatorchester Version)
10. Troels Hammer Efterar (Tonovi KBE Edit)
11. Alexey Arkhipovsky Doroga Domoi (Original Mix)
12. Gig Masin & Aslessandro Monti Snake Theory
13. Pekka Pohjola Sekoilu Seestyy (The Madness Subsides)
14. Charles Trenet La Mer