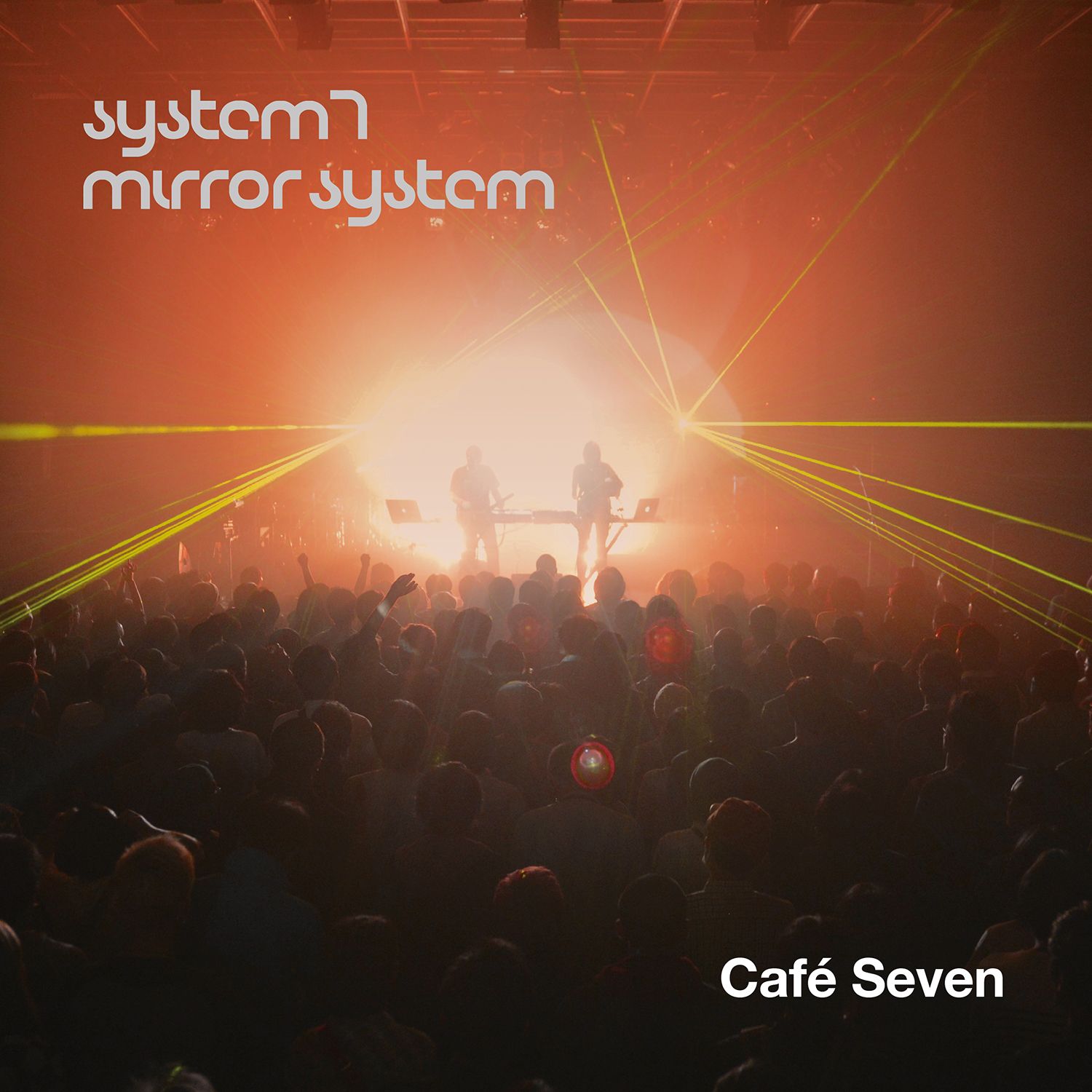 System 7 & Mirror System - Cafe Seven
Pivotal and enduring System 7 deliver the latest evolution of their System 7 dance floor sound alongside the chilled downtempo grooves of their sister Mirror System project on 'Café Seven'. Showcasing a seamless blend of deep atmospheric tech beats and soundscapes across 10 tracks distinguished by their warmly distinctive psychedelic sound.
Travel into System 7's Steve Hillage and Miquette Giraudy's sonic world where they mix bang up to date production with a timeless spirituality. A strong statement of desire and intent 'Café Seven' features exclusive collaborations with Marcus Henriksson (Minilogue/Son Kite) on the infectious menacing acidic electro groove, 'Million Suns' through to warm balearica on their Mirror System collaboration 'Smooth Operator' with Ajja. ' Flanked with some high profile remixes including System 7 remixes of Sudo's percussive bomb, Sensation' (originally released on Dubfire's label SCI+TEC in 2015) and the explosive 'And Justice Killed' by Joujouka. Another huge dance floor highlight is the culminating tech house weapon 'Big Summit' meshing Miquette's scintillating synths over Steve's unique guitar.
Switching into their expanded chill out guise, Mirror System, opening with the endlessly lifting ambient groove, 'First Wave'. From mesmerising eastern-stylings on 'Elektra' to their Mirror System Remix of 'Cloudface' for Six Degrees Records artists Delia Derbyshire Appreciation Society, which ranges freely around a deep bass line throwing in Moog guitar shapes, it perfectly balances the journey. Concluding is a final no-beats Moog inflected trip to the stars 'Golden Mission'. Creating sonic symmetry on their Café Seven' album (where the whole is greater than the sum of its parts) System 7 strive to carve out their own unique niche in the ever evolving pantheon of electronic music.
Inspired by the acid house explosion, System 7 are one of the UK's foremost unique Live techno bands, hailed for their impressive earth-moving Festival sets,and work with some of electronic music's true innovators from The Orb to Richie Hawtin who remixed their incredible 'Alpha Wave' classic.
Having 'helped birth the first official dance music stage at Glastonbury Festival in 1995', championed and worked with Detroit's Techno godfather Derrick May in 1990 on their acclaimed 'Mysterious Traveller' album the duo broke the mould with their seminal dual album release,'Fire' and 'Water' hugely inspirational to the generation of electronic artists that followed…such as Black Dog, B12, Autechre, and AFX from Sheffield's seminal Warp label.
System 7's have collaborated and worked with many leading visionaries from the electronic dance firmament including A Guy Called Gerald, Carl Craig, Laurent Garnier and The Orb on the classic 40-minute No 1 single 'Blue Room' as well as the first two Orb albums.
From Steve Hillage's early presence in psychedelic originators, Gong behind the revered ambient opus "Rainbow Dome Musick", a cutting experimental edge has run through his and System 7's impressive musical catalogue. Beyond dance music, Hillage is held in high esteem for his production on the early 80s Simple Minds ground-breaking albums 'Sons & Fascination' and 'Sister Feelings Call ', which featured the classic instrumental 'Themes For Great Cities' https://www.youtube.com/watch?v=6FfCxLvV2nc later to become a defining Balearic anthem championed by the likes of Paul Oakenfold and Danny Rampling. Catch S7 at: http://www.facebook.com/System7page
What I don't realise is that I'm also about to witness one of the best live shows I've ever seen; System 7 aka Steve Hillage and Miquette Giraudy. This insanely talented couple who are in their mid 60's were one of the first techno groups to play live back in 1990.
Hillage plays an electronic guitar to lucid effect which is complimented by a grand repertoire of samples which Giraudy takes into overdrive with her arsenal of synthesisers. The journey takes those lucky enough to be in attendance through divine ambient, experimental and psychedelic magic for 1.5 hours, although it feels like an eternity. I've never heard or experienced anything like it and I'm left feeling total joyful bliss by the end and life literally couldn't be any better."
(Data Transmission review of System 7 at Noisily Festival 2017)
Continuing their Live work, System 7 have shows and DJ sets in the UK, Europe and Japan including major shows with Orbital and The Orb throughout this summer and autumn.