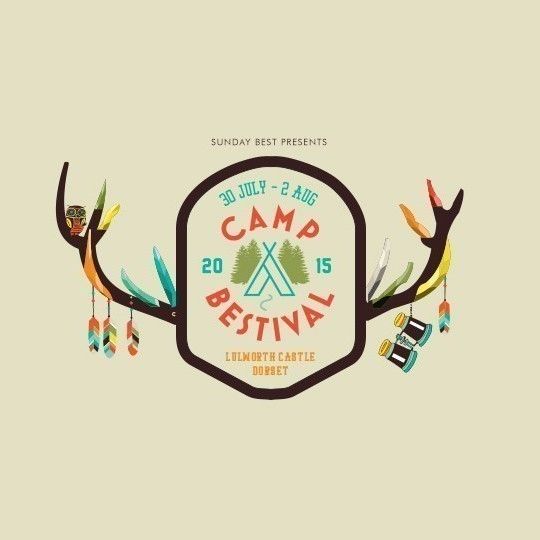 Camp Bestival 2015 Theme Announced
Inspired by our love of getting out into the open air and running free, Team CB are extremely excited to announce a brilliant new theme that's very close to all of our hearts. That's right, we're putting Mother Nature front and centre for 2015, as Camp Bestival Goes Wild!
Camp Bestival's own wild man Rob da Bank says: "Calling all wild boys and wild girls…oh yes my wild friends and family, prepare to get down and dirty at Camp Bestival 2015 as we dump the technology and scramble into the woods for a back to nature escape from normality. We'll have golden chances to bond with your kids in the mud kitchen, sleep under the stars with your mates and family, and take part in tons of wild activities. Release your inner wild thing and see you in July!"


We all love computers and game consoles but you can have too much of a good thing. As the amount of screen-time kids enjoy creeps ever upwards, the simple pleasures of the great outdoors, and the endless fun of running around under the sun is being left behind. So, we're going all out at Camp Bestival, unleashing our burning passion for all things wild, and dedicating our four-day festi-holiday shenanigans to the happy and healthy joys of getting back to nature. From jumping about in your bare feet, creating wild art and making daisy chains, to wood carving, star gazing and way beyond, a wild imagination goes a long way in nature's playground, and come 30th July to the 2nd August, Lulworth Castle is going to be the wildest place on earth!
Featuring a host of Camp Bestival's favourite attractions including the legendary Bollywood, The Big Top, The Greatest Tent on Earth, Pig's Big Ballroom, Art Town, Insect Circus, the Science Tent, Medieval Jousting, the Soul Park and more, there will be adventurous family fun across the board with music, theatre, shows, attractions, activities, poets, authors, talks and delicious, healthy food. The Camp Bestival crew have been scouring the globe looking for the wildest entertainment in existence, all for you. Reconnecting not just the kids, but all of us smart phone addicted adults too, with the good green earth and helping everyone discover the pure elation of untamed, outdoor fun is our mission. Weekend Camping, Camping Plus, Hospitality and Boutique tickets are on sale, so grab yours now and be there when Camp Bestival Goes Wild!
We really want you to Go Wild with us, so why not guarantee yourself a nature fuelled summer and treat your loved ones to some tickets with our amazing Camp Bestival Christmas offer? As well as entry to the wildest Camp Bestival yet, all tickets ordered before 19th December also get a super-festive and exclusive Camp Bestival Christmas card and a souvenir ticket. Numbers are limited so grab this Yuletide bargain while you can.
And speaking of Christmas, don't forget to sign up for our incredible Camp Bestival Advent Calendar right now! Bringing the twin joys of Christmas and Camp Bestival directly into your home, the advent calendar features a giddying array of festive fun from Camp faves reading Christmas stories and singing carols to fiendish activity sheets, brilliant jokes and eye-popping prizes. There's some absolutely cracking stuff on offer, so make sure you don't miss out!
Tickets for Camp Bestival 2015 (July 30th to Aug 2nd) are on sale now via: Ticketline / 0844 888 4410
WEEKLY PAYMENT PLAN:
You can use our 35 week payment plan to purchase your tickets meaning that an adult ticket can now be bought at a payment of just £5 per week over 34 consecutive weekly payments following an initial deposit payment. Book online via Ticketline only: select 'Camp Bestival 2015 – Weekend Payment Plan'.
Once you have signed up to the payment plan, which basically means giving your agreement by ticking the bank mandate form on Ticketline's website, they will automatically debit your card on a weekly basis. More info here .
NB: Booking fees and a deposit (£25 per adult ticket) will be charged with your initial transaction.
CAMP BESTIVAL 2015 WEEKEND TICKET PRICES:
Adult Weekend Ticket (inc. camping from Thurs or Fri) – £195*
Student Weekend Ticket (inc. camping from Thurs or Fri) – £180*
Age 15 to 17 Weekend Ticket (inc. camping from Thurs or Fri) – £113*
Age 11 to 14 Weekend Ticket (inc. camping from Thurs or Fri) – £88*
Age 5 to 10 Weekend Ticket (inc. camping from Thurs or Fri) – £20*
Age 4 & Under Weekend Ticket (inc. camping from Thurs or Fri) – FREE (but ticket required)*
*NB: please refer to the Camp Bestival Ticket Terms & Conditions
Car Parking – £15 advance
Campervan Ticket – £72 per vehicle – please read Campervan T&Cs here before booking
Caravan / Trailer Tent Ticket – £83 (One car only per caravan/trailer tent – no exceptions) (available via Ticketline only) – please read Caravan / Trailer Tent T&Cs here before booking
All Tickets – will incur a booking fee.
CAMPING PLUS:
Camping Plus plots cost £125.00 (max of 2 adults and 4 children per plot) and are perfect, not only if you know you won't be arriving as soon as the gates open, but also if you just want the comfort of knowing that you've got your camping space sorted. Book now.
HOSPITALITY CAMPING:
Hospitality Camping offers luxurious creature comforts in a beautifully designed, spacious campsite with fast access to the heart of the main Castle Stage arena. With premium toilets, hot showers, free yoga sessions, private parking and a meet and greet concierge service, Hospitality Camping is the place to stay for the ultimate high-end family festival experience. Head here for more info