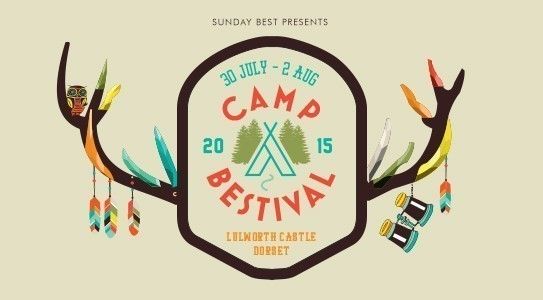 Camp Bestival Day Tickets Now On Sale
Summertime is on the horizon, and we just can't wait to head down to Dorset to go wild at Lulworth Castle for Camp Bestival 2015! And boy, do we have a truly gargantuan array of musicians, DJs, kids' entertainment, theatre, shows, comedy, attractions, poets, authors, talks and wild activities galore all lined-up to keep you entertained from 30th July – 2nd August. Once again this year, due to popular local demand from the fantastically supportive people of Dorset, we are pleased to announce we have a very limited number of day tickets on sale from Wednesday 20th May at 10:00am. Tickets are available for Friday 31 July, Saturday August 1st and Sunday August 2nd and below is what you can expect to see each day.
Friday's live acts & DJs include Clean Bandit, Professor Green, Wretch32, Buzzcocks, DJ Yoda, The Cuban Brothers, David Rodigan MBE Presents Ram Jam, Eliza Carthy, Kiko Bun, The Bohicas & many more. And there will be kids' entertainment and family fun from Dick v Dom Go Wild in the Ring, Freestyle Funk Forum, Brit School, Royal Albert Hall: Albert's Band, Marawa & her Majorettes Hula Schoola, Musical Bingo, Fun DMC and lots more.
Saturday's musical marvels include Kaiser Chiefs, Level 42, Alison Moyet, 808 State, Norman Jay MBE presents Good Times, Only the Young, George the Poet /The Crazy World of Arthur Brown, The Shires, Terry Hall (The Specials) and more. While we'll have amazing entertainment from The Cat in the Hat, Mr Tumble, Fairy Tales with Mr Nice aka Howard Marks, Michaela Strachan, The King Of Tiny Things, Misunderstood Monsters, The Steelers, Big Fish Little Fish, Funky Little Choir, and more to boot.
Sunday will see performances from Underworld, Kate Tempest, Bob Geldof, Soul II Soul, Ella Henderson, Ella Eyre, Slaves, Dub Pistols, World of Rave presents Billy Daniel Bunter, Slipmatt & Friends, Cristobal and the Sea, Ciaran Lavery, and many more. Plus we'll have kids and family entertainment from Marcus Brigstocke, Steve Backshall, Bill Oddie, The Scarecrows' Wedding, My Pet Monster and Me, Gospeloke, Cowboy Max, Danceathon, West End Kids and more.
And we'll have wild shows, activities & adventures and lots more distractions and fun across the weekend including The Hideaway Wellness Retreat & Spa, The Feast Collective, Guardian Literary Institute, The Train Trip, Bedtime Stories with Sara Cox, The Greatest Tent on Earth, Wild Time in the Dingly Dell, Carnival Parades, Giant Tree Climbing, Forest School, Sleep Out Under the Stars, Caravanserai, The Den, Insect Circus, Freesports Park, Transformation Station, Oberon's Observatory, Hot Tubs, The Daydream Yurt, Nature Runs and Baby Chillout.
There are only very limited numbers of day tickets on sale so hurry to guarantee some Lulworth Castle high jinks with the Camp Bestival crew! More wildness coming soon, check the Website, Facebook, Twitter, Instagram, Pinterest for more information.
Tickets for Camp Bestival 2015 (July 30th to Aug 2nd) are on sale now via: Ticketline, 0844 888 4410

Camp Day Tickets Price Information
Adult Day Ticket 65.00
Age 15-17 Day Ticket 37.50
Age 11-14 Day Ticket 32.00
Age 5-10 Day Ticket 15.00
4 and Under Free but you must obtain a ticket for under 4s
Car Park 5.00
CAMP BESTIVAL 2015 WEEKEND TICKET PRICES:
Adult Weekend Ticket (inc. camping from Thurs or Fri) – £195*
Student Weekend Ticket (inc. camping from Thurs or Fri) – £180*
Age 15 to 17 Weekend Ticket (inc. camping from Thurs or Fri) – £113*
Age 11 to 14 Weekend Ticket (inc. camping from Thurs or Fri) – £88*
Age 5 to 10 Weekend Ticket (inc. camping from Thurs or Fri) – £20*
Age 4 & Under Weekend Ticket (inc. camping from Thurs or Fri) – FREE (but ticket required)*
*NB: please refer to the Camp Bestival Ticket Terms & Conditions
Car Parking – £15 advance
Campervan Ticket – £72 per vehicle – please read Campervan T&Cs before booking
Caravan, Trailer Tent Ticket – £83 (One car only per caravan/trailer tent – no exceptions) (available via Ticketline only)