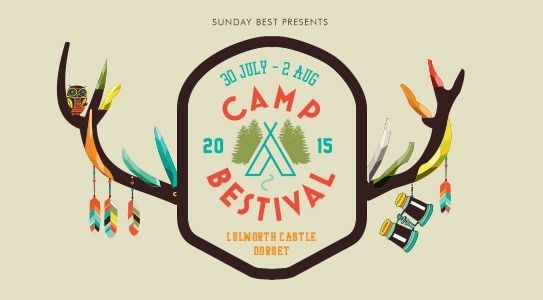 Camp Bestival is coming to a town near you
Celebrating Camp Bestival 2015's wild theme, Team CB are super-excited to announce the ultimate in amazing warm-up events for all the family, as Camp Bestival Goes Wild On Tour!
Visiting Portsmouth, London, Bournemouth, Winchester, Southampton, Bristol, a forest on the Isle of Wight near Cowes, and Spinney Hollow's forest location between Southampton & Winchester in May and June 2015 (see below for the full list of dates), each event will feature a whole host of different, incredible wild-themed activities, music, story-telling, competitions, face painting and arts & crafts, guaranteed to entertain all the family! So, there's no excuse not to round up the kids and come along to check them out!
Working closely with Big Fish Little Fish (London), Let's Make Art (Bristol), Southampton City Art Gallery, Aspex Gallery (Portsmouth), Sixty Million Postcards (Bournemouth) Spinney Hollow (Hampshire) and Lizzie's Way (Isle of Wight), we've hand-picked the best creative minds in every city, town and forest that we'll visit to make these very special family events happen. Each leg of the tour will feature unique talents, fantastic spectacles, and fun-packed interactive activities to dazzle and delight. Head to www.campbestival.net for full ticketing information.
The tour will kick off on the 3rd May in Bournemouth at 60 Million Postcards, with cool music for cool kids, a supersized ghetto-blaster, art workshops, face-painting, food & drinks, fancy dress, candyfloss and other surprises!
Once we wave goodbye to the good folks of Bournemouth, we'll be zig-zagging across the south in our Wild Tour convoy, bringing the good times to you each step of the way, making dens, really dancing, wearing wild fancy dress and having fun at all times. All the events are listed below, and don't forget, as well as all the Camp Bestival magic and mayhem, we're working with amazing local talent in great venues so make sure you come along and join in the fun!
CAMP BESTIVAL TRAVELLING CIRCUS TOUR:
Sunday 3rd May Sixty Million Postcards, Bournemouth 2:00pm-6:00pm [FREE]
Saturday 9th May a Forest nr. Cowes, IOW with Lizzie's Way 2:30pm-5:00pm [LTD NUMBERS]
Sunday 10th May Shapes, Hackney Wick 2:00pm-4:30pm
Saturday 16th May Southampton City Art Gallery, Southampton 10:00am-12:30pm [FREE]
Sunday 17th May The Bedford, Balham 1:30pm-4:00pm
Saturday 30th May Aspex Gallery, Portsmouth 11:00am-1:00pm [FREE]
Sunday 31st May No. 5 Bridge Street, Winchester 1:00pm-4:00pm [FREE]
Saturday 6th June Yurt Lush/Goods yard, Bristol 10:00am-1:00pm [FREE]
Sunday 7th June Spinney Hollow, Nr. Southampton & Winchester 4:30pm-7:00pm
Sunday 14th June Paperworks, Elephant & Castle 2:00pm-4:30pm
Head to www.campbestival.net for ticket info for each show.