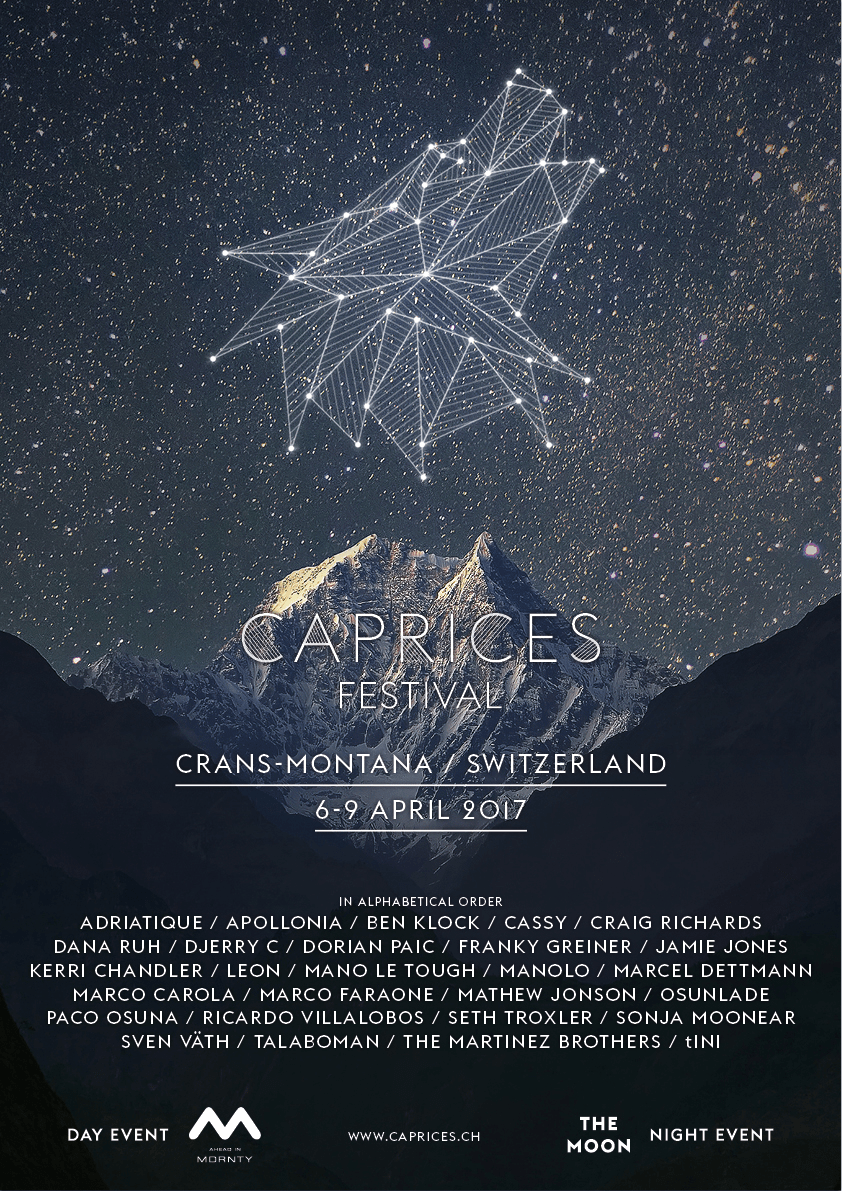 Caprices Festival announces full lineup
Caprices Festival announces full lineup inc. Mathew Jonson, Craig Richards, Sonja Moonear, Kerri Chandler and more
www.caprices.ch
For the 14th edition of Caprices Festival (6th – 9th April), more than 30 of today's prominent artists will be gathering in Crans-Montana. Additions to the already formidable lineup include Craig Richards, Mathew Jonson, Sonja Moonear, Kerri Chandler, Franky Greiner, Cassy, Adriatique, Dorian Paic and more, transforming the Valaisan resort into the capital of electronic music for four straight days.
In December 2016, Caprices announced its partnership with new up-and-coming Crans-Montana venue, Cry d'Er-Club d'Altitude. A restaurant, meeting and clubbing venue combined, and perched at an altitude of 2,220m, it'll be its first time hosting a Caprices event.
Located right on top of the ski runs, the venue fuses tradition with modernity and offers a breath-taking panoramic view. The inauguration evening for the third stage of the festival (Saturday, 8th April, starting at 7pm) will see a succession of world class artists including Ricardo Villalobos performing solo (as well as later playing back-to-back with Seth Troxler on the MDRNTY stage in the afternoon), Sonja Moonear, Franky Greiner, and Dorian Paic. As well as this, Ben Klock, Marcel Dettmann and the Talaboman duo will be filling the Moon with their powerful techno sounds.
"I wanted to create a completely different atmosphere for our premiere at the Cry d'ER," explains Maxime Léonard, the festival director. "Ricardo Villalobos will be there and, despite being a regular at Caprices, each of his sets is always a surprise. His musical tone is exactly what I was looking for for this event. Melodious and cosmic."
Four new names will be performing on Friday, 7th April at the Moon.
Behind the decks at the Moon, Paris collective Apollonia will be joined by Kerri Chandler, Cassy, Manolo and Swiss duo Adriatique. "The members of Apollonia already made Paris' best clubs vibrate with their solo performances in the 90s, and now these bosses of deep house will be firing up the Moon, accompanied by another king of the genre, American house hero Kerri Chandler, who only comes to Switzerland twice a year.
"With the Caprices festival, we have always sought to innovate and to give both the public and artists more and more each year, and in 2017 we shall do that once more," concludes Maxime Léonard.
Schedule
Thursday 6 April
Moon : 19h – 05h
Marco Carola
Marco Faraone
Paco Osuna
Leon
Friday 7 April
MDRNTY : 12h – 19h
The Martinez Brothers
Jamie Jones
Osunlade
Moon : 19h – 05h
Apollonia
Kerri Chandler
Cassy
Adriatique
Manolo
Saturday 8 April
MDRNTY : 12h – 19h
Seth Troxler b2b Ricardo Villalobos
Craig Richards
Moon : 19h – 05h
Ben Klock
Marcel Dettmann
Mano Le Tough
Talaboman (John Talabot & Axel Boman)
DJerry C
Cry d'Er – Club d'Altitude : Dès 19h
Ricardo Villalobos
Sonja Moonear
Dorian Paic
Franky Greiner
Sunday 9 April
MDRNTY : 12h – 19h
Sven Väth
tINI
Dana Ruh
Ticketing, accommodation, access, OFF festival
Info on www.caprices.ch