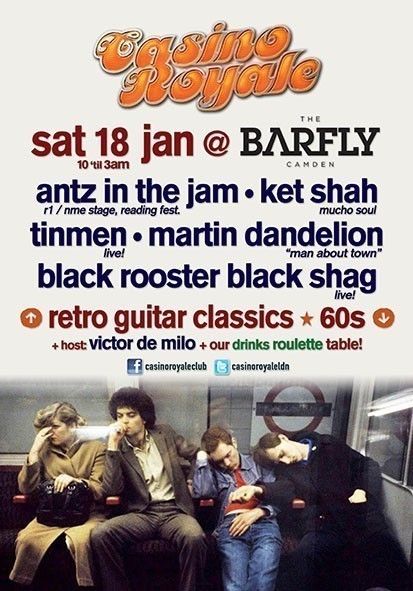 Casino Royale
UPSTAIRS: DJs playing classic guitar cuts with an XMAS flavour from then 'til now, joining the musical dots between the Stones, Smiths, Strokes, etc.
Tinmen (live @ 11)
– formed in 2012 in a shed, they've been gigging on the london circuit and recording a debut ep. worried about asbestos and landlord debts they moved out of the shed and now practice amongst heavy metal bands, underneath a strip club! check out their latest ep 'handful of dust'… http://original.jpgwww.wearethetinmen.co.uk
Black Rooster Black Shag (live @11.40)
– creating dark, sexually charged 3 minute soundtracks, featuring boy/girl vocals drenched in layers of searing guitars, underpinned by grinding bass lines and heavy rhythms.
Antz in the Jam (R1/NME Stage, Reading Fest. / Lockstock)
– Fresh from DJing the R1/NME stage at Reading Festival, he's got a good ear for the tunes and knows how to keep people moving. Ant's the man behind the Lockstock festival, A champion of breaking new bands and spinning big tracks. Playing various sets on the festival & club circuit this year, catch him at his Casino Royale residency.
DOWNSTAIRS: It's a riot of 60s garage, northern soul, psychedelia from:
Ket Shah (Mucho Soul)
– Ket can be found on the airwaves every Sunday between 1pm and 3pm alongside Alan Kenny Arscott (DJ A.K.A) presenting the Mucho Soul Radio show on www.back2backfm.net.
Musical taste encompassess all flavas as long as its Quality! and Sexy!
Martin Dandelion ("man about town")
– a man with a taste for the finer things in life, martin is an old friend of casino royale. with a flash of cuff-links and a swish of his frilly shirt-front he plays music from the more glamorous, sparkling side of the 60s. prepare for opulence and artistry.
Plus, flamboyant host Victor de Milo hands out his own bank notes so that everyone can have a free go on our "Monte Carlo-style Roulette table", with the chance to win drinks!