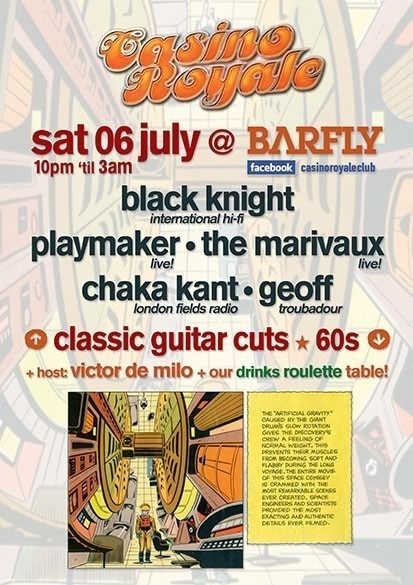 Casino Royale
UPSTAIRS: DJs playing classic guitar cuts from then 'til now, joining the musical dots between the Stones, Smith, Strokes, etc.
Playmaker (live @ 11:45)
– Playmaker mix tunes with power chords and deliver exactly the right amount of attitude to create a sound which is both unique and instantly addictive.
The Marivaux (live @ 11)
– Coming to us after a string of gigs supporting such artists as The Futureheads, Pete & The Pirates and The Baddies, their fresh indie-rock sound is has been described as 'transatlantic'.
Black Knight (International Hi-Fi)
– Resident DJ upstairs at Casino Royale for all of its 14 years. a veteran DJ of club nights at both Camden Barfly and The Garage, He was one of the original DJs at the Astoria's notorious Club X and dispensed a wildly eclectic musical cocktail on the main floor of Cigarettes and Alcohol at the celebrated (and sadly now defunct) Wag Club in Soho.
DOWNSTAIRS: It's a riot of 60s garage, northern soul, psychedelia from:
Geoff (Time Tunnel/Troubadour club)
– He says: "When I was 16, punk ruled and Malcolm McLaren got me a job at Rough Trade, which led to me going on the road with Generation X and (as DJ) with the Barracudas. My brother started a 60s night Quintessence, he made me DJ and threw me in the deep end. Other clubs followed (Lava Lounge, Club X, Time Tunnel) and lately The Troubadour Club. Expect Motown, Stax, Chess, King, Okeh, alla that!"
DJ Chaka Kant (London Fields Radio, etc.)
– bringing a soul shimmer to the dancefloor; unalloyed Motown, unashamed glam and unbeatable beat pop combos. She's graced the decks for London Fields Radio, BFI London Film Festival and Queen of Hoxton. Expect psych nuggets nestling in next to burlesque beauties, all to get your feet stomping and your eyelashes fluttering.
Plus, flamboyant host Victor de Milo hands out his own bank notes so that everyone can have a free go on our "Monte Carlo-style Roulette table", with the chance to win drinks!