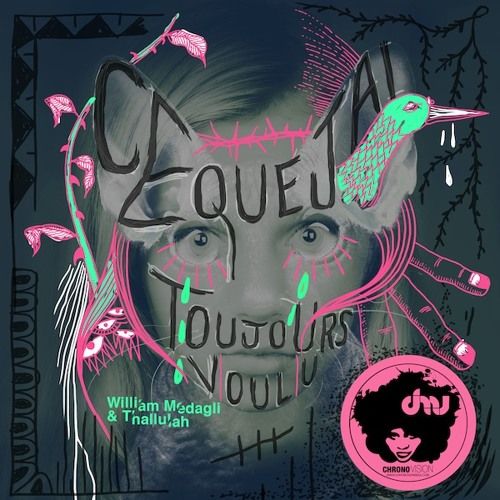 William Medagli & Thallulah - Ce que J'ai toujour voulu - Ce que J'ai toujour voulu
Here we are at the merge of a new step and transformation of Chronovision Ibiza, we are very proud to present to you the first album of a long series coming up in the future from our beautiful & talented roster, this time from prodigy William Medagli next to the lovely Thallulah for their globe trotter first album "Ce que j'ai toujour voulu" including 12 Originals that will blow your minds, touching all the genre of electronic music, inspiring, fusions, touched & souled…
"Jass" is a track that let you understand from the title the "jazz house" genre, the track was born improvising at the keyboard, using Jazz roots and mixing them with a really house cadence, piano, bass and brass creating an unique atmosphere, for the lovers.
"U say" is an electro pop track., with 80's warmth which remind youone of the first Depeche Mode, a mellow voice andsynthesiser rigorously analogic.
"Sensazioni Elettroniche"is a particular song mixing swinging synthesiser for create a paranoic and mental melody, mixing an electro bit to a violent kick into the break.
"Touch the moon" is a real electro's track, out of the modern method, pad and string create an spacial atmosphere,with a melody characterise it giving a 80's touch to the track.
"Dickies" is a particular track with tom and drum's games creating a supergroove in that way, with Oberheim warm sound mix with classic SH101′ sound, definitely the perfect mix.
"Chicago swindle" is a real house track, where the 909 sounds have the lead, kick and snare. for real house music 's lovers, essential and simple, perfect for the clubs.
"Nadawasaran is an embracing rhythm, tribal house, perfect for the real dance floor, going to recover Indian's sound with a super drum, vocal and percussions.
"Mediterraneo" is a perfect mix between afro bass and voices. The bass and the voices are obsessing and mark out the track letting it enter into the dance floor.
"Taff 399", a Club's bomb, an initial pad and a piano have the lead, tom's game and jazz's sound give to that track a perfect mix, for an explosion!
"Ancora tu – House is feelin" seems to be a 90's track, nostalgic harmony piano. It's impossible to not get back in the past with it. The soft and warm piano will put itself in your head and make you back in time.
"Feeling so good back" we have two versions of it really soulful, again for the 90's nostalgic. A dub and a vocal version with an amazing voice, french singer Phylly German, real house roots, groovy, funky with a summer feeling"