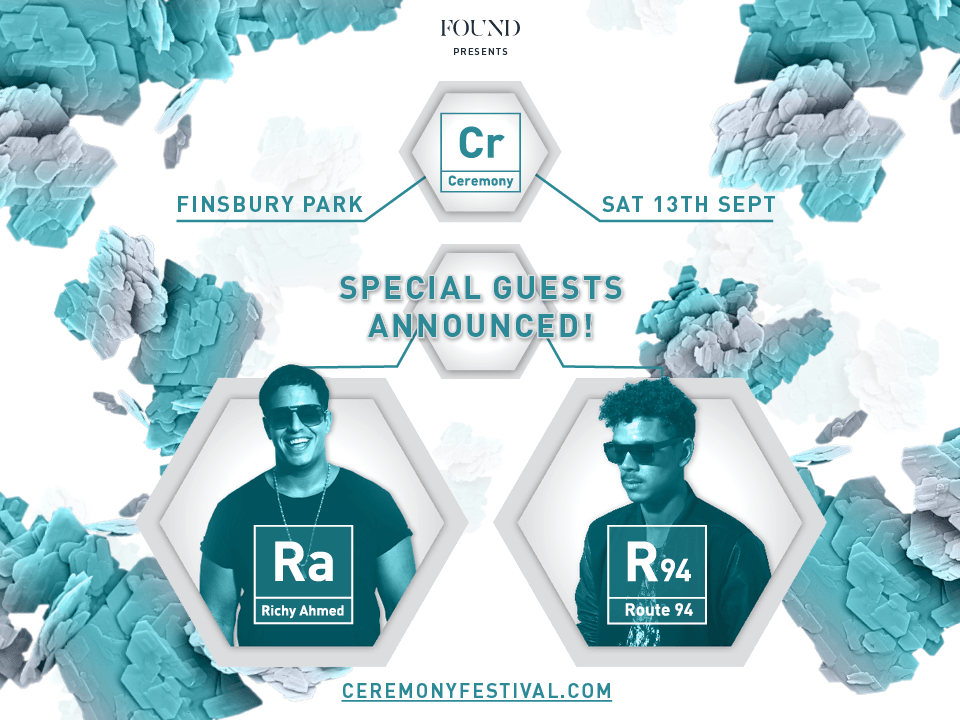 Ceremony announce more acts, more stages and 12 hour after party
After announcing a line up that explores the full 360 of underground dance culture, Found presents: Ceremony will look to the past, present and future to present a stellar multi-arena celebration at Finsbury Park on the 13th September. Featuring the early influencers, the new school and the future vanguards of electronic sound, expert party starters FOUND have now revealed a further two names to complete the Main Stage Line up, making it the ideal way to round off the summer season.
First to join the likes of Inner City LIVE, Louie Vega, DJ Sneak, Claptone, Chez Damier, Nick Curly, Todd Terry, Lil Louis, Roy Davis Jr, Adana Twins, Sidney Charles, DJ W!LD, Skepta, JME, Plastician, MANIK and many more is Hot Natured mainstay Richy Ahmed. At the forefront of a new breed of British DJs who are taking cues from disco, techno, funk and hip-hop, Richy's contribution to the Hot Creations crew has quickly garnered attention. With his recent EP 'Drums' showcasing his deft-touch for nu-disco production, expect a groove-laden set that is guaranteed to keep the dancefloor pumping.
Off the back of a hectic couple of years, Route 94 joins the Ceremony Main Stage after establishing himself as a major new force in House music. First emerging through Skream and Benga's Radio 1 show, the once elusive producer quickly made waves and has since had a stint in the UK charts with 'My Love'. Showing no sign of slowing down, Route 94 is a welcome addition to the Main Stage Line-up.
Building on FOUND's reputation for hosting unforgettable parties, Ceremony has been expertly crafted to deliver the very best musical experience for its partygoers. Featuring a total of 7 arenas, a further two stages of music have now been revealed with red hot west London promoters, So Fresh So Clean set to make their festival debut. After launching in 2013, close members of the FOUND family So Fresh So Clean have rejuvenated the West London clubbing scene with their classic hip-hop and RnB jams from the 90s and double-ohs. Having already amassed a fun loving fan base, their arena at Ceremony will get the gin and juice flowing and is a must-see for those hoping to get that house party feeling.
The seventh and final arena will be hosted by legendary record label and promotion outfit Groove Odyssey. With deeply rooted ties tracing back to seminal figures of house such as Kerri Chandler, Joey Negro and Kenny Dope, Groove Odyssey are perfectly placed to complete Ceremony's journey through sonic history and beyond.
Found have also revealed fun-filled theme for their VIP arena which will be transformed into a jungle for the day. VIP tickets offer an extra stage of music, additional bars, seating area, luxury facilities and fast-track entry.
Continuing the party over at Egg London, Ceremony's after party will run for a colossal twelve hours running from 10pm – 10am. The full line-up will be revealed on August 4th. Very limited 13.50 Earlybird tickets are on sale now.

EVENT DETAILS.
Ceremony Festival
Date: Saturday 13th September 2014 – 11am-10pm
Venue: Finsbury Park, London
Line-up:
CEREMONY MAIN STAGE
Louie Vega / Lil Louis
Claptone
Richy Ahmed
Route 94
Adana Twins
Kidnap Kid
Flashmob
Droog
Chasing Kurt LIVE
51ST STATE
Inner City LIVE
DJ Sneak
Todd Terry
Kevin Saunderson
Roy Davis Jr.
Grant Nelson
URBAN NERDS
Tropical: Skepta, Jme, Preditah, Logan Sama and Plastician
M A N I K
DJ Luck & MC Neat + Kie
Cause & Affect
Tom Shorterz
Just Kiddin
Matt Jam Lamont
Woz
*Special Guest*
Sam Supplier
MAGNA CARTA
Nick Curly b2b Simon Baker
DJ W!LD
Fur Coat
Sidney Charles b2b Santé
Jordan Peak
East End Dubs
VIP ARENA: EGG LDN PRESENTS
Chez Damier
Citizen
Krankbrother
Denney
The Menendez Brothers
The Willers Brothers
Kyle E
GROOVE ODYSSEY
Line-up TBA
SO FRESH SO CLEAN
Line-up TBA
TICKET INFO.
ALL CEREMONY FESTIVAL GENERAL & VIP AND AFTER PARTY TICKETS ARE ON SALE NOW FROM:
http://www.ceremonyfestival.com
£20 1st Release – SOLD OUT
£25 2nd Release – ON SALE NOW
Ceremony Festival VIP Tickets:
£70 VIP Tickets – ON SALE NOW
VIP Tickets include:
– Fast track Ceremony Festival event entry
– Access to the private VIP area hosted by Egg LDN
– Exclusive VIP line-up
– Exclusive cocktail menu
– First class street food menu
– Luxury Toilets
– VIP Garden & Seating Area
– Bespoke stage set-up & décor
CEREMONY: LATER – official after party at Egg Nightclub
£13.50 – Very limited earlybird tickets – ON SALE NOW