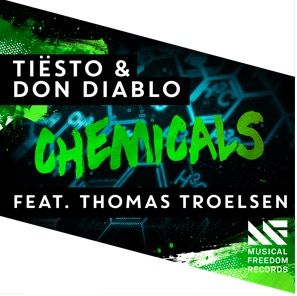 Tiësto & Don Diablo (feat. Thomas Troelsen) - Chemicals
Teaming up for one of the biggest collaborations yet, Tiësto and Don Diablorelease "Chemicals," out now on Musical Freedom. Premiered by the duo on the main stage of this year's Tomorrowland, "Chemicals" immediately picked up buzz, racking up millions of plays and hitting #1 on the UK Buzz Charts.
Fusing Don's signature piano house with Tiësto's big room sounds, "Chemicals" holds listeners captive through rhythmic breakdowns and powerful harmonies, completed by the dynamic vocals of famed Swedish singer Thomas Troelsen. Up next for the release is the anticipated music video, centered on the story of three fans from different corners of the world, accompanied by stunning CGI and special appearances from the two artists themselves.
Critically-acclaimed for his musical mastery, Tiësto's abilities as an artist have continuously been proven through his dedication to delivering quality tracks. From working with top names in music such as Kanye West and Katy Perry, to opening for the 2004 Athens Olympic games, the Grammy-winning producer continues to be a pioneer in the world of electronic music. The only dance music artist to launch their own channel, Tiësto launched Club Life radio with broadcasting company Sirius XM in 2012. Continuing his residencies atHakkasan Las Vegas Restaurant and Nightclub and Wet Republic pool at MGM Grand Hotel & Casino, this year sees Tiësto traveling the world in support of his new mix album, Club Life Vol. 4 – New York City in addition to encouraging young artists to chase their dreams as the host of the DJ competition series Your Shot USA.
Dutch DJ and producer Don Diablo holds a heavy portfolio, crafting remixes for high-profile names such as Madonna and Ed Sheeran, in addition to an assortment of collaborations with artists like Kelis and Alex Clare. Landing multiple top 3 hits on Beatport with records, "AnyTime," "Starlight," and "On My Mind," he has become an in-demand producer, with his remix of Alex Adair's "Make Me Feel Better" charting at #1 on Beatport for over two weeks. 2015 has been one of the biggest years yet for Don Diablo as it has seen the launch of his Hexagon record label, as well as his creation of the theme song for the highly anticipated Batman Arkham Origins video game. Currently, Diablo is working on rapidly expanding his discography, in between his residency at Las Vegas's Hakkasan Nightclub and his global tour.