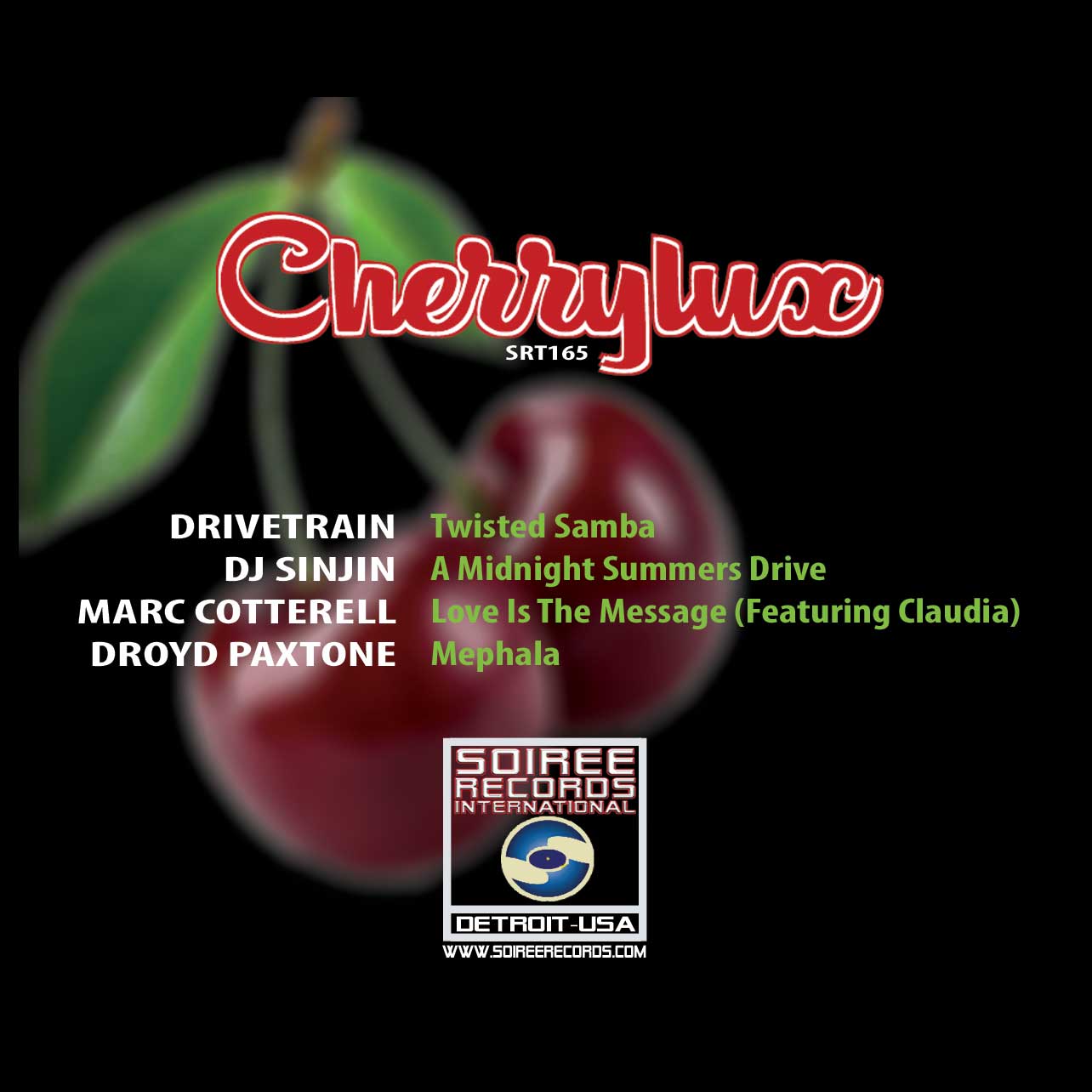 Various - Cherrylux
Following the 'Device' compilation EP in June featuring tracks by Drivetrain, G-Prod, Orlando Voorn and Undergroove, Soiree Records' own Derrick Thompson (aka Drivetrain) brings together four new international tracks on 'Cherrylux', for his Detroit label.
'Cherrylux' continues on Soiree's now familiar and innovative approach to its mini-compilation 12"s, opening with a track from the Detroit house / techno underground hero, himself. 'Twisted Samba' sees Derrick Thompson under his Drivetrain pseudonym blend a 3 dimensional Latin inspired cocktail of African percussion with a collaboration of velvety vocals.
DJ Sinjin has roamed the world over sampling underground electronic cultures in the likes of Detroit, LA, NYC, Las Vegas, Tokyo, Barcelona, Berlin, Rome, Cincinnati, Charlotte, as well as his Toledo (Ohio) home. And as a first generation breakdancer, making others dance has been his single-minded focus. 'A Midnight Summers Drive' is driven by an infectious bass groove, while the elegant chord progression develops an animated late night stimulant.
Marc Cotterell is originally from the Cornish seaside resort of Bude (UK) and probably best known for his releases on Plastik People but has also recorded for labels like Night Drive Music and Minuendo. He made his debut appearance for Soiree on the 'Mélange' EP in 2014. Now he's back with 'Love Is The Message (Feat. Claudia)'. The gravitational pull of bass repetition plus steamy sax and irresistible spoken persuasion equals pure dance intensity.
Another coastal dweller and a producer inspired by the musical culture of Detroit is new artist Droyd Paxtone from Bari in Italy, who delivers the final track. 'Mephala' is submerged and techy, a debut filling the atmosphere with moody pads and incessant bass rhythm; rooted in intelligence. A suitable new addition to the label.
Cherrylux: sweet and juicy; deep and deluxe!
'Cherrylux' is out now on Soiree Records International