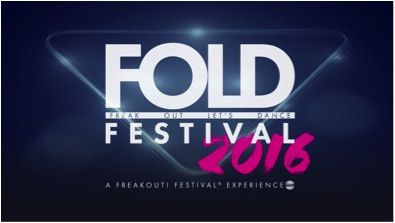 Chic Legend Nile Rodgers Brings FOLD Festival To London
Grammy-winning composer, producer, arranger, and guitarist Nile Rodgers brings his FOLD festival to the UK for three days in June. Curated and produced by Nile, Fold Festival is a music celebration spanning every popular genre and will be headlined by CHIC on each evening. The inaugural event took place at the scenic Martha Clara Vineyards in Long Island in August 2015 and the next instalment of FOLD will take place in the historic Fulham Palace in London this June.
FOLD festival is a unique event that will feature Rodgers and his multi-platinum band CHIC sharing the stage with music legends and contemporary trailblazers who have personally been invited by Nile to perform. Nile's musical career has spanned 4 decades in which he has constantly traversing new musical terrain and successfully expanding the boundaries of popular music and his contact book reads like a who's who of the most important musical innovators to the last 4 decades.
Chic mastermind and festival curator Nile Rodgers says:
'I started FOLD Festival 4 years ago in Montreaux, Switzerland to pay tribute to the musicians that make me who I am: A collaborative ensemble composer, who knows how to throw party!'
The first night throws a spotlight on a truly incredible era of pop, with a stellar line-up of trailblazers responsible for some of the most creative and flamboyant songs in modern music. One of music's outstanding voices, Alison Moyet will bring her critically acclaimed music to Fulham Palace to perform alongside Chic. The Thompson Twins' Tom Bailey will be playing the classic Thompson Twins hits. It will be the first time Tom and Nile have been on stage together since Live Aid in 1985 when Madonna sang backing vocals.
Saturday sees the celebrations embrace modern day pop, undeniably influenced by Rodgers acclaimed recent work for Daft Punk and Disclosure amongst others. John Newman perfectly encapsulates the modern day soul man, dominating the charts, airwaves and music collections of fans across the country and his unrelenting live show is set to be a true highlight of FOLD 2016. Having teamed up with Nile Rodgers on last year's great single 'Boomerang', international pop star Emin will also be performing and makes a perfect addition to the bill. Reflecting not just the current stars but the future ones too, emerging newcomer Grace will take the stage, bringing the voice behind the phenomenal "You Don't Own Me" to the hallowed grounds of FOLD 2016.
Sunday features the very best of funk, soul and everything in-between. Standing as an untouchable emblem of classic soul, Angie Stone will bring her unmatched vocal prowess to the stage delivering a set of acclaimed classics that show why Prince, Stevie Wonder and D'Angelo all sit as famous fans. Along with another masterclass in magic from CHIC, these names will be joined by acid-jazz pioneers Incognito, bringing an eclectic set of pulsating anthems to an evening like no other.
Many more acts will be added to each day of the festival.
FOLD will be the first ever music event to be staged at London's Fulham Palace. Seeped in over 1300 years of British history, the historic Fulham Palace house and gardens of the Bishop of London is an incredible setting in which to experience one of the music highlights of 2016.
Robomagic CEO Rob Hallett who will be producing the show commented "It is an honour and privilege to be working with the legend that is Nile Rodgers on a new festival for London that London has not seen the like of in the past"
TICKET PACKAGES
Hospitality Packages in The Palace Private Rooms and Courtyard
Platinum Packages £299.00
Includes Welcome Canapés , 3 Course Private Fine Dining, Drinks Package, Private VIP Bar within the Palace, Gold Circle Access,
Friday – Platinum Pre Event Dinner as above plus Meet and Greet with Nile Rogers and Guests.
Arrival 4pm Dinner 5pm. Music 6pm
Saturday and Sunday – Pre event Lunch with exclusive access to sound check & rehearsals followed by a meet & greet with Nile Rogers And guests.
Arrival 2pm Lunch 3pm Music 5pm
Gold VIP Canapé & Drink Package £199.00
Includes canapés and drinks package in the Historic Palace Courtyard. Private VIP Bar within the Palace, Gold Circle Access,
Private Bar and viewing area within The Palace, and Gold Circle Access
Rodgers has remained culturally relevant throughout his 40-year-career by constantly traversing new musical terrain and successfully expanding the boundaries of popular music. The co-founder of CHIC, Rodgers pioneered a musical language that generated chart-topping pop hits like "Le Freak" and "I Want Your Love," sparked the advent of hip-hop with "Good Times," and gave Sister Sledge the smash "We Are Family." His work in the CHIC Organization and his productions for artists like David Bowie and Madonna have sold over 200 million albums and 50 million singles worldwide, while his innovative, trendsetting collaborations with Daft Punk, Avicii, Disclosure, and Sam Smith reflect the vanguard of contemporary music. Fuelling four decades of pop anthems with more than 200 production credits to his name, the scope of Rodgers' peerless influence is undeniable.