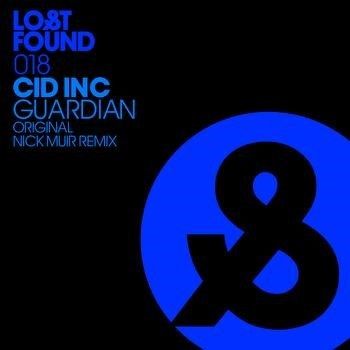 CID INC – Guardian
Over the past six months, Guy J's Lost & Found label has released a series of distinctly exceptional releases from Juan Deminicis (Found02), Yunus Güvenen (LF014), Sahar Z & Chicola (LF015), Brian Cid (LF016), and not forgetting… "Time" (LF017), the critically acclaimed, Beatport No.1 album by Guy Mantzur & Sahar Z. Now, the label is set to raise the bar again with yet another stunning release.
If you're already a fan of Cid Inc after his releases and remixes on Anjunabeats, Balance, Sudbeat, Hope and Stripped, then you're in for a real treat here as his Lost & Found debut "Guardian" is a mighty creation of absolutely gorgeous beauty – a pulsating masterpiece, brimming with subtle energy and melodic vibes. This is, most definitely, music to hold close to your heart!
"Guy J asked me for an original track for his Lost & Found label so I decided to go for a groovy, melodic composition with a kind of a ethnic sound attached to it. We've both been playing it out for some time now and the reactions have been unbelievable!" – Cid Inc
Cid Inc's music is already deep in the hearts of many electronic music fans but with his fortitude and eternal lust for perfection there is no telling how far his unique talents will reach. Finnish producer Henri Hurtig (aka Cid Inc) began his journey into DJing and music production in the early 1990s, leading to him becoming highly regarded as a sound engineer by all his industry contemporaries. His mastering prowess is now sought after by some of the most widely respected producers and labels worldwide.
Remix duties for "Guardian" fall to probably one of the most talented electronic artists in the world. Nick Muir is the long time production partner of John Digweed and this remix for Lost & Found is a rare solo outing. He beefs up the groove to stratospheric levels and brings an immense amount of energy to play with his exceptional production talents, whilst respectfully keeping the original vibe intact. His remix is, guite simply, an absolute masterclass!
"I've been playing this remix in my sets whenever I've DJed recently and it has been getting amazing reactions!" – Nick Muir
Lost & Found is steadily building a catalogue of releases that are uniquely joyous, uplifting, intelligent and beautiful. Guy J and his ever increasing family of artists that he features alongside his own productions, are exploring the psyche of electronic dance music, asking questions and tasting possibilities, forging ahead into the future. This is a label that everyone should, most definitely, always keep on his or her music radar. Cid Inc & Nick Muir are the next exciting pieces in an ever-evolving musical jigsaw puzzle.