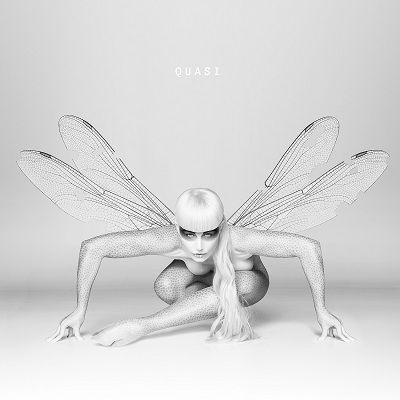 Kill J - Coda
Following the success of her sultry single, 'Trickle Trickle', KIll J returns with her hotly anticipated debut EP, 'Quasi'. Featuring the Radio 1 and 1Xtra-approved 'You're Good But I'm Better' alongside the aforementioned 'Trickle Trickle', also included are new tracks 'Mama Taught Me Well', 'Back Home' and forthcoming single 'Coda', all of which showcase what KIll J does best; blending quivering vocals with rippling beats that ebb and flow to create sharply sweet pieces of experimental pop.

Of the EP's title, Kill J reveals that "It's a very personal thing. I´m conflicted. I´m a pop artist – but I don't quite fit into that box… then I realize that I don't have to be fully something. I´m quasi. Half graceful goddess, half reptile". This is a notion that is tangible in her songs, where she laces her delicate, ethereal voice through thunderous beats and melancholic lyrics; such as on the upcoming single 'Coda': "a song about taking power back. I chose the title because it is a musical term which describes a passage that brings the piece to the end – an after play or finale. You always know what you should have said after it's over and too late – 'Coda' is my way of getting the last word." A former 'Band of the Week' on The Guardian, KIll J has already gained a legion of fans including Pigeons and Planes, SPIN, Idolator, The Line Of Best Fit and The Fader, whilst receiving airplay from the likes of Huw Stephens and Annie Mac on BBC Radio 1, Jamz Supernova on 1Xtra and even a spin on Beats1.

Storming the online arena and tearing up the Hype Machine with a series of tracks in 2015, she only looks set to further her position as one of Denmark's most exciting exports this year: cemented by her recent signing to powerful international booking agency AM Only, renowned for representing only the most heavyweight artists such as Baauer, Halsey, Skrillex and David Guetta. With a Maida Vale live session confirmed for Radio 1's Huw Stephens and upcoming performances at this year's SXSW for Hype Machine / Pigeons and Planes and Music Is Our Weapon, KIll J is going global with her formidable talent: as she pertinently whispers on 'Coda', 'This is my chance, I won't let go'.