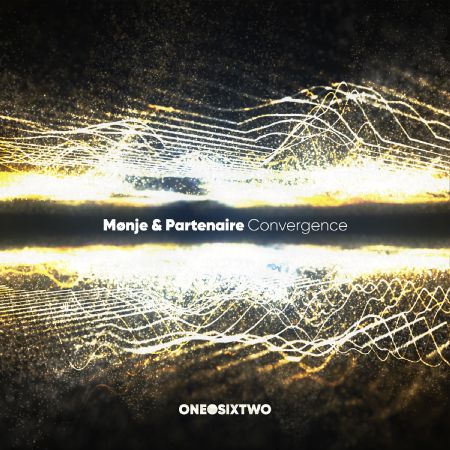 Mønje & Partenaire - Convergence
Tripswitch's onedotsixtwo label continues to build its catalogue of first class releases with 'Convergence', a 3-track masterpiece courtesy of a collaborative project joining Mønje & Partenaire. Following the impressive lineage of C-Jay, Yoram & Namatjira, Nick Warren & Tripswitch, Luka Sambe & Filter Bear, and Thankyou City, the growing label now shifts its attention towards Argentina, to feature two extremely exciting rising talents with an outstanding package that should not be missed.
Within the unique melting pot of world-class talent that is emerging from this global clubbing nation, Sebastián Sellarés (aka Mønje) and Axel Bray (aka Partenaire) are standout future stars shining brightly throughout 'Convergence'. The title track radiates quality from start to finish, painting a beautiful, spellbinding, progressive musical portrait with a sophisticated layered structure, atmospheric chords and subtle motifs. Meanwhile, 'Illuminaria'soars with a delightful glistening vigour, cleverly blending percussive elements with ever-evolving layers of melodic mastery – an exotic creation that shows precisely why the current renaissance of proper progressive house music is such a joy to behold. For the climax, Mønje & Partenaire unleash'Opposed Auras', a track that sees their hypnotic creativity in full-flow, where countless delicate touches combine to create a track of ever-evolving excellence – a perfect finale for this first class package.
This is Partenaire's second outing on onedotsixtwo, having debuted with 'Yesterdays' – a beautiful melodic highlight on Tripswitch's 'In At The Deep End' (ODST0001) compilation project that started the label's joining of the dots across the thriving global eclectic electronic scene with a boundary-blurring, proper progressive ethos. The Buenos Aires native has been steadily building a stunning portfolio of releases on labels such as ICONYC, Clubsonica, Auditen, Modern Agenda, Soundteller and Stellar Fountain. As a DJ/Producer, he always looks to experiment through the more emotive expressions of electronica, blending his stylish brand of progressive house with a unique strain of deep and lush techno.
Sebastián Sellarés (Mønje) was born in Córdoba in 1998, and started to get into music when he was very young, eventually being drawn to the underground electronic scene where his productions incorporate and fuse elements from techno and trance to create his distinctive driving progressive signature style. With a steady flow of releases on the likes of Massive Harmony, Light Side Music, BC2, PHW Elements, BCSA, Stellar Fountain and many more, he is (alongside Partenaire) one of Argentina's finest emerging creative talents.
Sebastiánand Axel's creative paths first crossed in late 2017, when Mønje was commissioned to remix Partenaire's 'Intertwine' (PHW Elements). A massive hit in its own right, the track graced the dancefloors at Cordoba's Forja, Uruguay's OVO and Brazil's Warung, with much thanks to the maestro himself, Hernan Cattaneo. This led to the forging of a unique creative relationship. Although separated by a 10-year age difference and over 700 km (Cordoba to Buenos Aires), Sebastiánand Axel's similar tastes in music and mutual admiration became common ground, and what started as an experiment, soon found its colour and shape. Without ever being together in the same room, the duo shared thoughts and ideas on a journey to find their distinctive combined sound. This remarkable 3-track release on onedotsixtwo is the fruit of their convergence.
Artist Info:
https://soundcloud.com/partenaire
https://www.facebook.com/PartenaireMusic/
https://soundcloud.com/sebasellares
https://www.facebook.com/sebasellares.music
onedotsixtwo Info:
http://onedotsixtwo.com
https://twitter.com/onedotsixtwo
https://soundcloud.com/onedotsixtwo
https://www.facebook.com/onedotsixtwo
Tripswitch Info:
https://twitter.com/nicktripswitch
https://soundcloud.com/tripswitch
https://www.facebook.com/nicktripswitch
https://www.instagram.com/nicktripswitch
https://www.friskyradio.com/show/harmonics