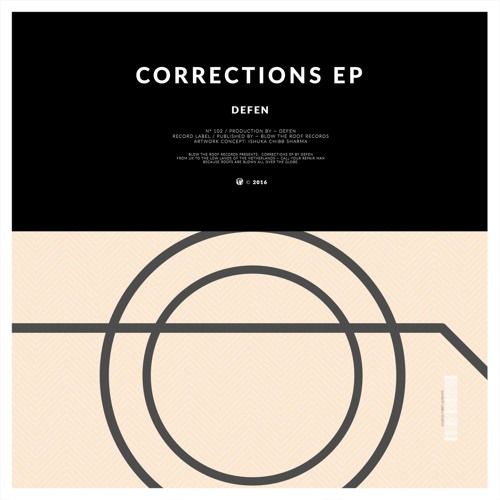 Defen - Corrections EP
Ever with the knack of unearthing new talent from all corners of the world, and in any genre of music, Northampton's Blow The Roof label uncover a local gem for their latest release and sees them introduce up-coming electronic producer, Defen, with the 'Corrections EP'.
With clear influences from the underground club scene, the 'Corrections EP' is a solid, 3 track, jacking Tech House debut which could easily be imagined being dropped by everyone from the likes of Dubfire to Gui Borratto and Technasia to Circoloco favourite Davide Squillace and is sure to ingratiate Defen to a host of new fans.
With controlled intensity, tracks 'The Working Knowledge', 'Acutely' & 'Corrections' contain many different layers, showcasing Defen's production skills and understanding of what will get a crowd moving in a packed nightclub. Look just beyond the relentless kick drums and you'll feel the funk in each bass line which is accentuated with vocal snippets and intricate effects which all combine to create atmospheres fit for any point in the evening.
Defen's debut release 'Corrections EP' is out now on Blow The Roof. Don't sleep.
Stream on Spotify
https://open.spotify.com/album/4KeqQNoqeeE6DO8WtV2yjn
Available on Beatport
https://www.beatport.com/release/corrections-ep/1852266
Also on iTunes
https://itunes.apple.com/gb/album/corrections-ep/id1153449450
Defen Online
https://soundcloud.com/defenmusic
https://www.instagram.com/samdimmick_
Blow The Roof Online
https://www.facebook.com/blowtheroofrec
https://twitter.com/blowtheroofrec
https://soundcloud.com/blowtheroofrec
https://www.instagram.com/blowtheroofrec