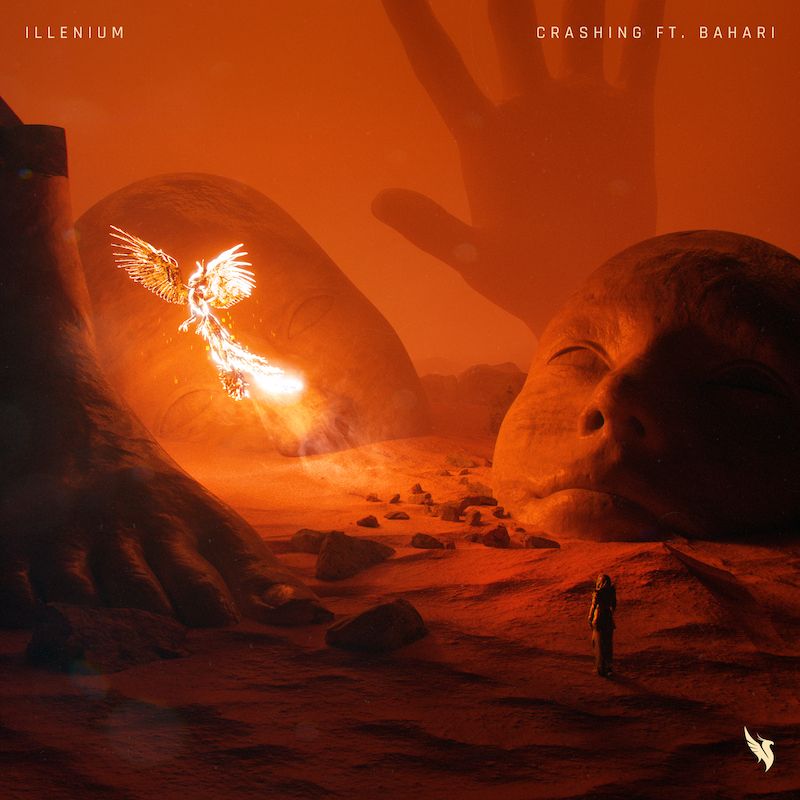 Illenium ft. Bahari - Crashing
Denver-based artist Nick Miller—known professionally as ILLENIUM—shares his first single of 2019, 'Crashing' featuring Bahari, today via Virgin EMI. 'Crashing' is available for streaming and download.
Awash in warm synths and swaths of glitchy beats, the single highlights ILLENIUM's sonic breadth. This lush musical backdrop contrasts with hypnotic harmonies shared by critically acclaimed L.A. electronic duo Bahari—Natalia Panzarella [singer, bassist] and Ruby Carr [singer, keyboardist]. Their delicate delivery cascades into the choruses' catchy confession, "Yeah, I got myself too drunk on you to drive…So, I'm crashing here tonight." Celebrating the release, ILLENIUM also dropped a vivid and vibrant official lyric video. Watch it on the link.
Of the collaboration, ILLENIUM says, "I really love how this song turned out. I heard the demo a long time ago and it always really stuck with me. We started working together a few months later and they played the idea for me again. I was really stoked I was able to be a part of the record with such amazing people. Working on the song felt natural and I couldn't have asked for a better duo to work with on it!"
"This song is so close to our hearts. It's been one of our favorite songs we've ever made, and we have been waiting for the perfect time to put it out. ILLENIUM really captured the emotion of what we were trying to portray with the lyrics. We couldn't have dreamed of a better collaboration for this song," says Bahari.
Just last week, he unveiled the Hex Cougar Remix of his 2018 single, 'God Damnit' with Call Me Karizma. The original clocked upwards of 12 million total streams as Dancing Astronaut praised how he "plasters his trademark drums and haunting melodies for a crisp, intimate production that is primed to send chills throughout the human spine." An explosive union of styles, rising L.A. producer Hex Cougar heightened the dark melodies and hyper-charged bass of the tune, amplifying its energy all around. Check out the remix HERE. It came hot on the heels of ILLENIUM's own remix of 'Without Me' by superstar Halsey. Another fan favorite, it ascended to the Top 10 of the iTunes Overall Top Songs Chart and amassed 14 million total streams thus far.
Finalizing a major tour announcement very soon, ILLENIUM will headline New York City's legendary Madison Square Garden for the first time in 2019. This milestone follows up his 2018 Awake 2.0 Tour, which sold out every single date including three nights at San Francisco's Bill Graham Auditorium and NYC's Terminal 5 respectively, and two nights at the Aragon Ballroom in Chicago.
He also continues to attract critical widespread praise. In a 2019 profile, The Chicago Tribune predicted, "ILLENIUM is right on the verge of becoming the next big EDM crossover star." Paving a path to stardom on his own terms, 2019 marks the dawn of ILLENIUM's biggest chapter yet.
ILLENIUM creates immersive emotional experiences, displaying an adeptness for crafting aural arrangements that vary in style, beauty, complexity and depth. With two full-length albums to his credit and sundry singles and remixes, he has surpassed the one billion stream mark across his discography.
His debut album, Ashes, was released to critical acclaim in early 2016. Awake followed in 2017 and hit #1 on in the iTunes Electronic Dance Charts in 12 countries. Named one of the "10 Best Dance/Electronic Albums of 2017" by Billboard, it included such singles as 'Feel Good' (with Gryffin featuring Daya) and 'Crawl Outta Love.' Praising the album as "a gorgeous collection of future bass, piercing vocals, and barefaced lyrics," Dancing Astronaut said, "While it might seem premature to call an album a 'masterpiece,' no other title would fit Awake so well." Billboard observed, "The phoenix is ILLENIUM 's mascot, and Awake is the emergent moment of that story."
ILLENIUM's Awake Live headline tour captivated audiences across the country, and sold out such renowned venues as The Shrine, Terminal 5, Bill Graham Civic Auditorium, Aragon Ballroom and Red Rocks. His remix of Flume's 'Say It' earned him an Electronic Music Award for 'Best Remix' in 2017. ILLENIUM's recent collaborations include 'Don't Give Up On Me' with Kill The Noise ft. Mako and 'Gold (Stupid Love)' with Excision ft. Shallows.
Bahari is a dark electronic duo based in LA. Comprised of singer/bassist Natalia Panzarella and singer/keyboardist Ruby Carr, the band's name means "ocean" in Ruby's native African language. Known for their rich harmonies, they have previously toured with Selena Gomez and Birdy and collaborated with ZEDD & Grey. The band is now reclaiming their independence and diving into the world of dark, young and reckless pop. In early 2018, Bahari released the first single of their new sound, 'Fucked Up,' and followed it up with 'Savage' a few months later. In July, the band released their third single 'Chasers,' which premiered on Billboard. Bahari is currently in the studio working on their new music and will be featured on ILLENIUM'S new song 'Crashing.'