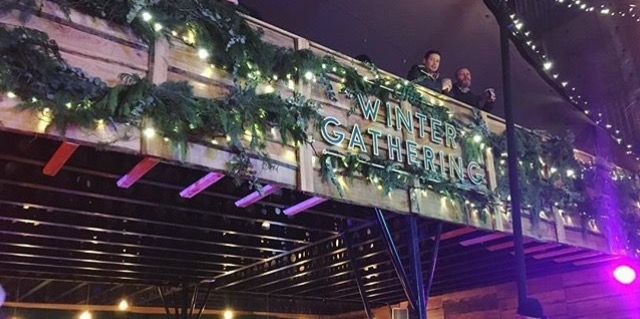 Crazy P and Robert Owens to headline Winter Gathering Line ups for the festive season…
The Winter Gathering at London Road Fire Station is now in full swing and so the time has come to announce the next few weeks of exciting musical offerings. Chief amongst them are sets from the likes of Robert Owens, Children of Zeus, Raf Daddy from 2 Bears and many more.
Thousands of people are rolling by this unique and historic location and soaking up the festive atmosphere. The Winter Gathering features not only the Manchester Ice Rink, but also a selection of boutique market stalls as well as some of the UK's best-loved street food traders.
To accompany those activities, each evening, live music stars and top DJs are all adding cheery soundtracks to finish things off in style, and now the next round of guests can be announced. In November, Mr Wilson, True Ingredients and Nick Gyn, Honey Feet and plenty of Funk and Soul stars all line up, and there are also some very special guests to boot. The first of these is on 18th November when a Sultan's Shake Takeover rolls into town with a set from much loved indie rockers Mystery Jets the main attraction. The night after, charming and characterful 2 Bears member Raf Daddy brings his big and bouncy house and bassy beats, and later in the month Matuki plays a Strutter and Twitch Takeover on the 24th, then Stevie Wonderland x High Hoops take care of things on the 25th.
December kicks off with Nghtwrk X MVSON collective and a spectacular live show from Twisted Tubes on the 1st, cult new local hip hop duo Tyler Daley and Konny Kon aka Children of Zeus play on the 3rd, Ransom Note's Will Tramp play on the 7th and then Dom Lawson from The Thunder and Bradley Lucke take care of the 8th and 9th. On the 10th, all the stops are pulled out for a special set from Robert Owens, a house music legend, Fingers Inc vocalist and one of the most prolific talents in the underground scene.
The rest of the year sees Jenna & the Gs play live, Funkademia, Jonny Dub and SURU all come and add their own spin to the party. As well as this, there are some huge guests to announce in the next few days and weeks, so keep your eyes peeled.
www.elementalevents.com/thewintergathering
www.facebook.com/wintergathering2016