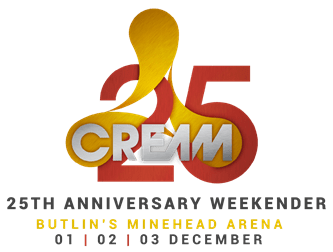 Cream 25th Anniversary Weekender – 1st – 3rd December – Line Up Announced
There are few institutions that have made such an indelible mark on the electronic music landscape as Cream, the global clubbing behemoth which ignited the UK dance music explosion back in the early 90's, and its testament to its global impact that has kept Cream at the top of their game for 25 years.
To celebrate this significant milestone the iconic dance establishment will be staging a series of very special events throughout the year in the run up to their latest endeavour the Cream 25 Weekender, a fitting anniversary finale in association with Butlin's Live Music Weekends.
Culminating a busy year of shows for a festive blowout, they've teamed up with Butlin's to take over their resort in the idyllic coastal town of Minehead in Somerset for a three day celebration joined by over 50 of their favourite DJs from the Cream dancefloor over the last two decades. Confirmed acts include Faithless (DJ Set), Paul Oakenfold, Paul van Dyk, Dave Seaman, Darren Emerson, Eddie Halliwell, Graeme Park, Jeremy Healy, Jon Pleased Wimmin, Judge Jules, K-Klass, Mauro Picotto, Seb Fontaine, Tall Paul, X-Press 2, Andy Carroll, Andy Joyce, Anthony Probyn, Ed Mackie, Jemmy, Paul Bleasdale, Rob Harnetty, Sean Hughes, Stuart Hodson & Samuel Lamont plus many more still to be announced.
The multi-roomed weekender will take fans on a musical journey from Cream's humble beginnings to present day. Expect a sea of hands in the air moments, lots of vinyl, pool parties, fairground rides and general daytime fun and good times with a gathering of 6000 likeminded souls joining together for one big Christmas disco.
Tickets on sale now and start from £185 per person Po.st/C25WT – Tickets include three nights accommodation plus access to all live music venues and performances. For more information go to http://weekender.cream.co.uk .
EVENT INFO
Cream 25 Weekender
Butlins, Minehead Arena, Somerset
Friday 1st – Sunday 3rd December
www.bigweekends.com / www.facebook.com/officialcream / @officialcream