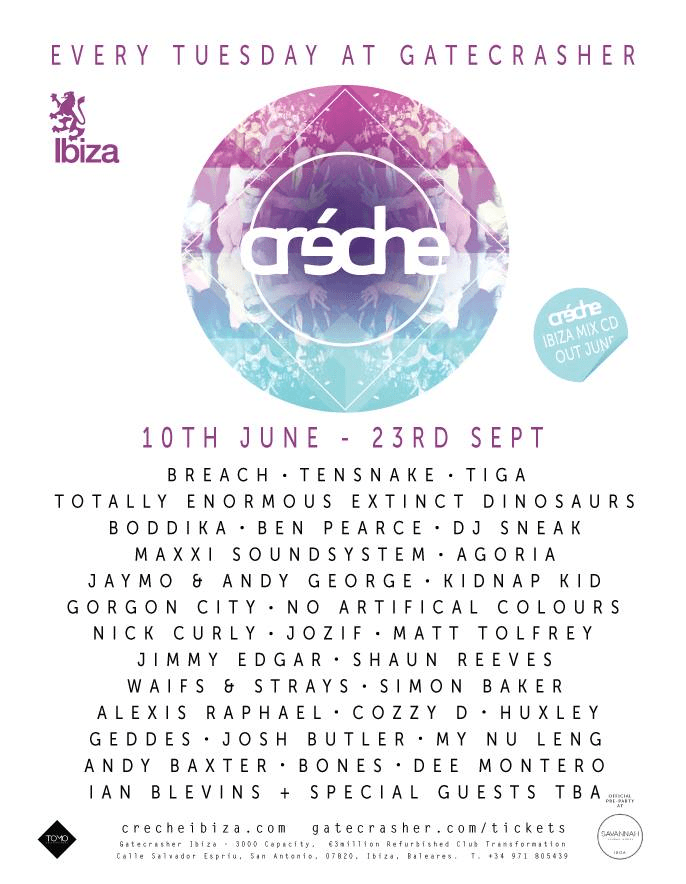 Crèche Ibiza announce names
Crèche Ibiza announce names
Having laid out their bold and exciting new vision to bring some much needed cool and credibility to San Antonio in Ibiza, London party Crèche is now unveiling the guests they have locked in for their season of parties at the hugely redeveloped Gatecrasher club from Tuesday June 10th until September 23rd.
The much loved London Crèche party has played host to plenty of talents new and old over the years, with Cozzy D and Alexis Raphael always at the heart of the operation, serving up sets that define the Crèche sound. It will be just the same this summer at Gatecrasher, where every party will feature special visuals by a company called Deerstalker who is the Visual director for MUSE & Luciano. What's more, partners in the party as well as taking charge of bookings are experienced Ibiza promoters Neil Evans and Chris Bones who will ensure Crèche is a sure fire hit this summer.
Says Alexis on the move… "We'd always thought that San An, even though it's not the coolest place on the island, does not provide a good night with good underground music for people. Why should the people staying there (which make up 50% of the clubbers on the island apparently) have to pay to travel to the other side of the island and then pay huge door entry prices? We are offering them the same huge DJs on an equally good sound system in an equally good venue, but without the extra effort and cost needed to get there."
So, joining Alexis Raphael and Cozzy D who will be on hand at every event will be the likes of deep house stars Breech and Ben Pearce, Hypercolour hot stuff Huxley, French techno man Agoria, Canadian Tiga, disco pin up Tensnake, new school stars Gorgon City and Totally Extinct Enormous Dinosaurs plus Chicago legend DJ Sneak, Radio 1 hosts and Moda Black label bosses Jaymo & Andy George, tech house man Nick Curly, Detroit badboys Jimmy Edgar and Shaun Reeves plus the UK likes of Simon Baker, Jozif, Waifs & Strays, No Artificial Colours, Geddes, Josh Butler, Andy Baxter and countless others to be announced closer to the time. Also playing will be Austrian duo Klangkarussell who have just has a massive Top 10 hit with Sonnentanz ft Will Heard.
This summer, then, Crèche really is going to be the place to go and park yourself all night long: you will be in the safe hands and amongst the quality sounds of Alexis and Cozzy and their specially chosen guests, and where better could any discerning electronic music fan want to be? As a new night hitting Ibia there is plenty of excitement about this one, and is sure is set to be the best party on the Island this summer.
www.crecheibiza.com