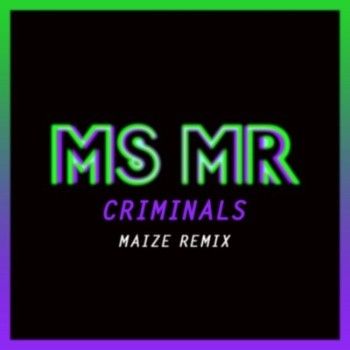 MS MR's (Remixed by MAIZE) - Criminals
MS MR's latest single, 'Criminals' has received a 90's dance inspired re-work courtesy of up-and-coming electronic powerhouse MAIZE. Premiering on Billboard, the new take on the track is described as "perfect pop rave harmony".
Listen to the MS MR – Criminals (MAIZE Remix) here:
http://smarturl.it/Criminals_MAIZE
Los Angeles based, British/Australian bred electronic duo MAIZE is the latest project from songwriter/producer Tim Metcalfe (Robbie Williams, Sway Clarke II) and drum & bass DJ/composer Piers Baron (Jetman Dubai: Young Feathers). Combining their love for pop music with their electronic roots, the duo creates music for the masses while still maintaining their subterrestrial edge. Their remixes of "Blue" by Marina and the Diamonds and "Criminals" by MS MR mark their first official releases; following up with their debut single in early 2016.