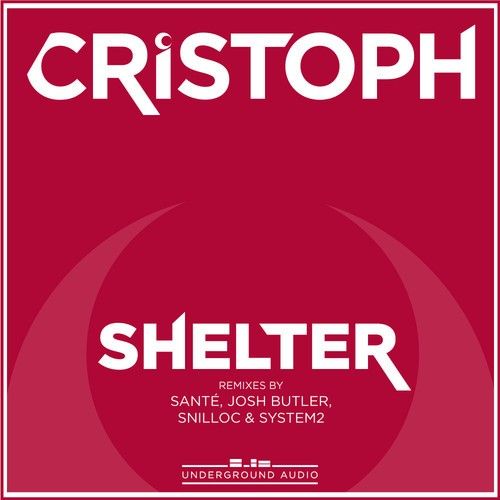 Cristoph – Shelter
Underground Audio are proud to present brand new remixes of Cristoph's highly acclaimed 'Shelter' track.

'Shelter' is set to be one of Cristoph's most successful acclaimed releases, vinyl copies are currently in production and will be circulating toward the end 2014. Support on the single reads like a who's who in House Music, featuring in leading charts from the likes of Jay Lumen, Dale Howard, Mihalis Safras, Sante, Him_Self_Her & Sidney Charles.

Pete Tong "Red Red Hot, everyone is talking about it"
Huxley "Shelter is dope"
Waifs & Strays "Really cool EP from Cristoph,
will be playing all of these"
Him_Self_Her "Shelter for us thanks…will def play out and support!"
Rebel "Feeling this a lot. Good stuff!"
DeMarzo "Always excited to hear what Cristoph is bringing. Cheers!!"

In his early years, Cristoph was influenced by the sounds of his fathers Motown vinyl, paired with his older brothers Chicago and Detroit house cassettes, not a bad combination even if we do say so ourselves. This nurtured a passionate love for music from an early age, with him citing Masters at Work and 'MK' as early influences. From North to South and everywhere in between, Cristoph has been causing a storm on the dance music scene. His effervescent, broad ranging style encompasses heavy basslines, uplifting melodies and carefully chosen vocals, spanning the deep house to techno spectrum.

Having had two No 1's on Traxsource main chart with "On The Inside" with Noir music, it has been a busy year for Cristoph with bookings in Ibiza and across Europe. Remixes on this hot package courtesy of Sante, Josh Butler and Snilloc with early support from the likes of Hot Since 82 and Richie Hawtin.

Snilloc takes things a slightly funkier vibe with a grooving baseline, clever staccato synth stabs and a big brass horn making this a dance floor must have. Next up is Josh Butler with a hypnotic heads down groove. Berlin star Santé emerges with quality a deep, dark mix. Showcasing his excellent production skills and a clever percussive groove. Last but certainly not least ViVa Music's new boys System2 come up with an underground floor shaker to round off this wicked package.

Having recently worked with Suara music, Cristoph's hard work ethic accompanied with his quality production has gained the attention of Radio 1's Pete Tong, listing him as a "Future Star".