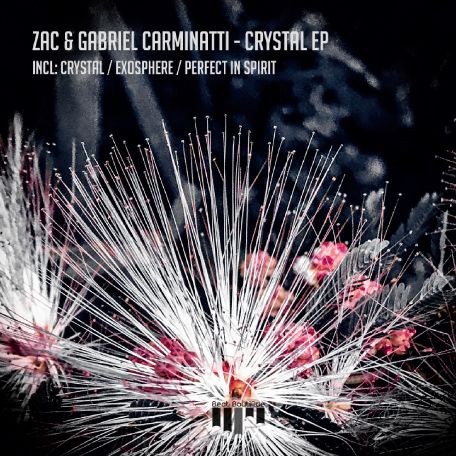 ZAC & Gabriel Carminatti - Crystal EP
Since its inception 3 years ago, the stylish and forward-thinking Beat Boutique Records has been an important element in the flourishing, highly creative Israeli scene. Established by Tel Aviv's highly respected, electronic music maestro DJ Zombi, the label has been steadily growing with a flow of quality releases from the likes of D-Nox, Cid Inc., Jamie Stevens, Ron Flatter, Marc DePulse, Dmitry Molosh, Weekend Heroes, Lonya, Dousk, Jos & Eli, and many more cutting-edge artists. For their next release, they present a superb 3-track EP from one of Brazil's most exciting DJ/Producer collaborations – ZAC & Gabriel Carminatti.
With its lustral intro of warm pads over an infectious groove, the immediately engaging 'Crystal' (with early exclusive support from Hernan Cattaneo) is a perfect EP opener. It steadily introduces layers of subtle, all enveloping, hypnotic, melody rich elements that soar, ebb and flow with perfect beauty. The continually evolving nature of ZAC and Gabriel's complex musical arrangements continues through the slightly tougher, chiming 'Exosphere'. Wonderfully evocative melodies flourish once more, whilst the groove is tied down with a decidedly heavier bottom end. As a finale, 'Perfect In Spirit' dials up a more percussive, groove-based approach as it lays down a super-seductive, hip-swinging backbone, before adding yet more of ZAC and Gabriel's sublime, heart-warming, melody-rich, subtle euphoria.
ZAC emerged on the Brazilian scene by unleashing his creativity and exploring his unique talent of reading the intricacies of every dance floor that he meets. These three letters are now a symbol, a cry for freedom, turning events into unforgettable parties and music into energy. After ten years of steadfastly accumulating knowledge from the most incredible dance floors in Brazil and Latin America, today ZAC is synonymous on the South American continent with "sonzeira", a very Brazilian word for "tune!" His creative partner and fellow Brazilian, the intensely talented Gabriel Carminatti from Rio Grande do Sul, is passionate about technology and art. Already established as a promising artist, he has recently been intensifying his studio work and building a solid reputation. Together, ZAC and Gabriel's passion, talent and strive for perfection, is the perfect combination to match them with Beat Boutique.
Artist Info:
www.zaclive.com
www.facebook.com/zac.thiagozacchi
https://soundcloud.com/zacchimusic
https://soundcloud.com/gabrielcarminatti
www.facebook.com/gabrielcarminattimusic
Beat Boutique Info:
https://soundcloud.com/beat-boutique-rec
https://www.beatport.com/label/beat-boutique/43507
https://www.facebook.com/BeatBoutiqueRecords?fref=ts