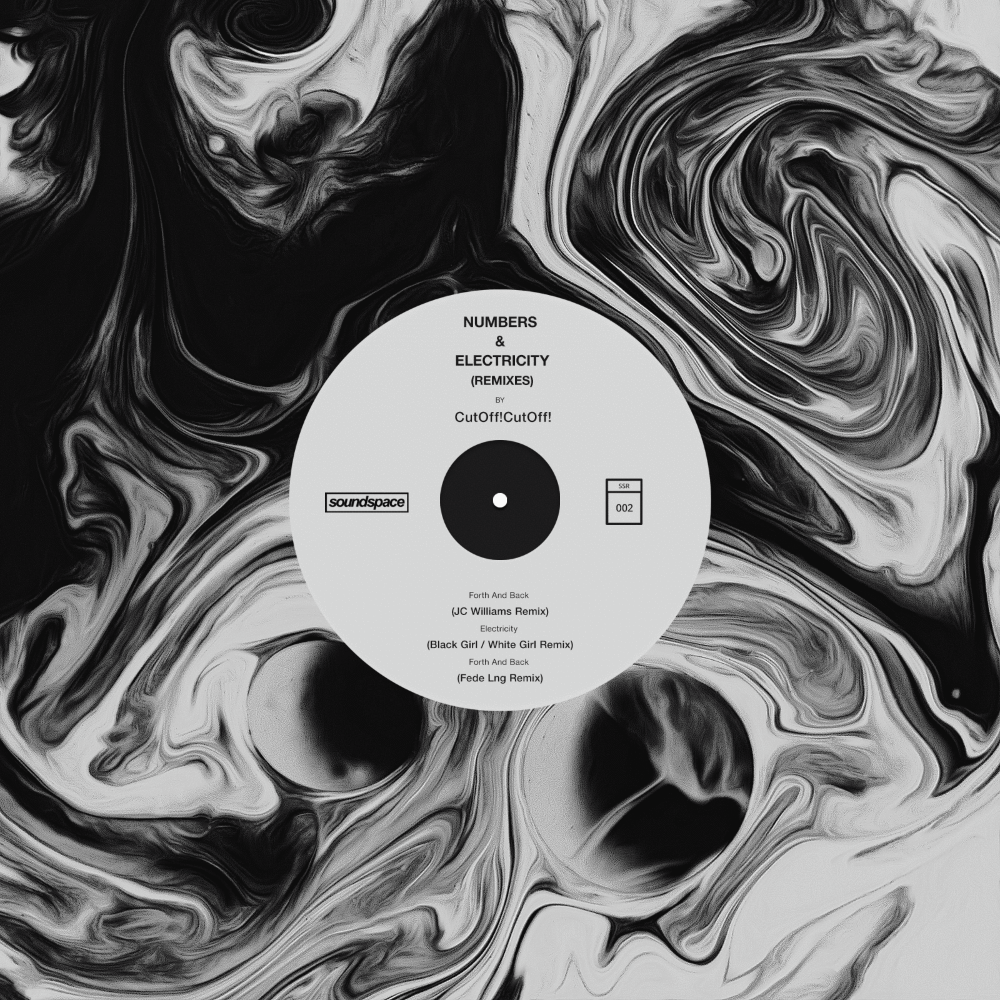 CutOff!CutOff! – Numbers & Electricity (Remixes)
After a sensational debut release from CutOff!CutOff! Belfast-based label Soundspace are delighted to bring to you Numbers & Electricity (Remixes), the second EP of what promises to be a long and illustrious catalogue. Taking the knife to our first project we have some of the most exciting prospects from the UK and beyond in local hero JC Williams, the exciting double act of Black Girl/White Girl and Axe On Wax main man Fede Lng.
Up first is former Shine resident and "Extended Player" JC Williams with a steely interpretation of Forth & Back. With a more sinister feel than its predecessor from the outset, this club-driven monster is sure to be causing damage on dancefloors for months to come. The Belfast-based producer puts great emphasis on the original's grubby acid layers, which flutter around the production and combine to create a rich ambience. With a bit of help from some snappy percussion and a disjointed yet epic breakdown, this remix quickly gets things storming forward in orderly fashion.
Next to hold the Soundspace torch are Black Girl / White Girl, two girls from Amsterdam and Tel Aviv whose eclectic sound is demanding the international house community's attention. Their take on SSR001's opening track is an instant classic, one of those tunes that just builds and grooves until it's time to press repeat. Softer around the edges than the original, BG/WG have done a stellar job of preserving Electricity's infectious, bumping melody while transforming the overall into an elegant and graceful affair perfect for any setting.
We were delighted to have Fede Lng on board with this project, and the Axe On Wax owner does not disappoint with his deeply atmospheric remix of Forth & Back rounding off proceedings. Taking away the originals strong acid influence, Fede Lng turns his attention to creating a rich, pad-driven soundscape that envelops the listener like a thick fog. When combined with crisp percussion and chilling vocal samples this makes for a whole heartedly evocative and spooky affair tailored for the small hours.
With such an abundance and variety of talent coming together, SSR002 was always going to be a truly innovative and beautifully eclectic project. A true masterclass in contemporary house and techno sounds, Numbers & Electricity (Remixes) is only the second step for a label that not only holds great promise but is fully committed to unearthing and promoting the most deserving artists around.