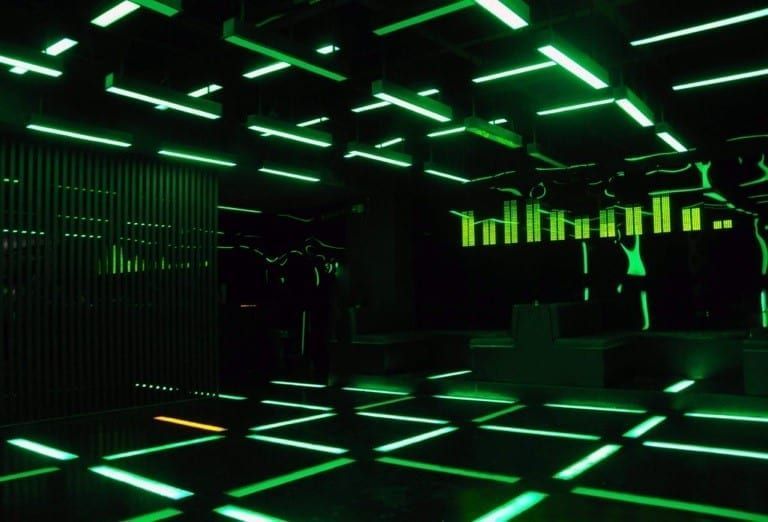 D-EDGE lines up Seth Troxler, Ben UFO, Franceso Tristano, Maceo Plex, Lawrence and more
Whilst Europe begins its long slow descent into darkness, things in Brazil are hotting up and the summer is just around the corner. It means that the country's leading club and label, D-EDGE, is about to embark on their busiest and best season of events yet.
Already in June and July the likes of Gaiser, Jesse Perez, Derrick May, PillowTalk, Ellen Alien and Timo Mass have visited the futuristic club, with its walls of LEDs and sleek, clean dark lines. Despite the crazy economic situation in Brazil, then, D-EDGE is still dedicated to bringing excellent international artists to headline. Of course, it is also celebrating 15 years in operation and for a taste of the art of things that go down check out this video with testimonials from lots of people in the industry talking about the place, including Pillowtalk, Ellen Alien, Fred P, Roman Fluegel, Cesare vs. Disorder.: https://www.youtube.com/watch?v=gNiX4eSjRGw.
Now there is plenty more to come in the form of Alex Niggemann from Poker Flat on August 29th, and he is joined by Philogresz a.k.a. Phil Hinter Ensemble. Into September the Techno star Barem plays on the 10th, FACT's Rick Maia is on the 17th and CJ Jeff plays on the 25th.
October will then see Canadian pin up and Wagon Repair boss Mathew Johnson headline before Justin Martin from DirtyBird on the 15th. Melancholic techno master Francesco Tristano then comes by on the 17th, Belgian house man Kolombo on the 22nd, Dial boss and Smallville associate Lawrence on the 24th with Vera and then AndHim close out the month on the 30th. November, meanwhile, sees Ben UFO on the 7th, the return of Maceo Plex for an Ellum Showcase, Seth Troxler headlines on the 13th, Fur Coat on the 14th and Fumiya Tanaka on the 21st before Rodriguez Jr plays live on the 3rd of December.
The label, too, continues to go from strength to strength, with recent releases such as D-EDGE Records Various Artists Vol. II still sounding sharp. And more from the likes of Phil Hinter Ensemble, an EP with Stimming from boss man and resident Renato Ratier as well as a full album, who has already provided some key moments on the label, is all on the way in October and November respectively.
Many more names are sure to be announced in the emceeing weeks, but for now there are already plenty of reasons to get yourself to Brazil to explore and experience South America's best club.
http://d-edge.com.br/
August
29 – Alex Niggemann
29 – Philogrezs aka. Phil Hinter Ensemble
29 – R&B (Deep Secrets, DC)
September
10 – Barem
17 – Rick Maia
25 – CJ Jeff
October
08 – Matthew Johnson
15 – Justin Martin
17 – Francesco Tristano + Gaturamo
22 – Kolombo
24 – Lawrence
24 – Vera
30 – Andhim
November
07 – Ben UFO
12 – Ellum Showcase: Maceo Plex + Shall Ocin
13 – Seth Troxler
14 – Fur Coat
21 – Fumiya Tanaka
December
3 – Rodriguez Jr. (live)
More names to be announced over the coming weeks…