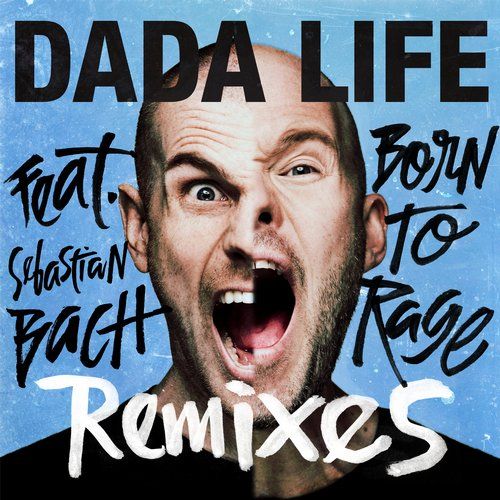 Dada Life feat. Sebastian Bach – Born To Rage Remixes
With the original released in an incredible 39 different, country-specific versions and immediately charting in the top 5 at both the Beatport and Hype Machine charts, 'Born To Rage' already carries significant pedigree. Now further boosted by an iconic vocal from former Skid Row front man Sebastian Bach, up-and-coming producers Blinders and Mercer have both stepped up to provide two incredible new reworks.
Already heavily backed by some of dance music's biggest stars like David Guetta, Martin Garrix and legendary BBC Radio 1 tastemaker Pete Tong, Blinders is a producer on the rise and his booming, melody-rich rework is a testament to his potential. Set around a series of euphoric crescendos and luscious synth work, it builds on the big room promise of Dada Life's original to land as a remix sure to prove popular with fans.
With a series of EP releases on Spinnin' Records already to his name, French producer Mercer is also a producer very much on the rise. Building ominously, his charging electro-house remix of 'Born To Rage' is centered around a thunderous lead bass line that exemplifies the jump-up, hard-edged style that he's become revered for.
Currently on tour in Australia as part of the Future Music Festival and with a series of dates in Las Vegas on the horizon, as well as an appearance at Pacha in London on May 10th, Dada Life have enjoyed a typically 2014 to date and look set to enjoy another landmark year.
For more information on Dada Life, please visit:
http://www.dadalife.com/
https://www.facebook.com/dadalife
https://twitter.com/dadalife
https://soundcloud.com/dada-life
For more information on Blinders, please visit:
https://www.facebook.com/blindersmusic
https://twitter.com/BlindersMusic
https://soundcloud.com/BlindersMusic
For more information on Mercer, please visit:
www.mercermusic.com
https://www.facebook.com/MercerFanpage
https://twitter.com/Mercer_Music
https://soundcloud.com/mercermusic