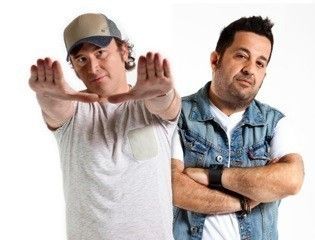 Daddy's Groove vs. Nari & Milani – Big Love To The Bass
When the two Italian acts Daddy's Groove and Nari & Milani decided to hook up on a track it was always going to be something special. Their mammoth 'Big Love To The Bass' is out through Ultra Records on 13th June 2014.
'Big Love To The Bass' as the name suggests features a powerful lurching, churning bassline that bounces along with an intense energy, developing into a heavy club banger of a track.
Daddy's Groove began collaborating with DJ/ Producer David Guetta in mid – 2011 when they were recommended by a mutual friend to remix some of his music.
Since then, their DJing has seen them travel to all corners of the globe, create remixes for artists such as Kylie Minogue, Whitney Houston, Axwell, Louie Vega, Norman Doray & Tristan Garner, The Shapeshifters and many others.
With a whole series of impressive releases throughout 2013, including 'Unbelievable (ft. Rob Adans)' which hit #2 on the Beatport chart, and their first single of 2014 'Synthemilk' with Congorock, the trio is going from strength to strength.
After conquering Italy, Maurizio Nari & Ronnie Milani went international playing at some of the world's best clubs and festivals including Ultra Festival, Tomorrowland, Electric Love and more.
Over the last decade the duo have remixed dance tracks for luminaries such as Laidback Luke and Axwell in addition to unleashing their own original productions through some of the best record labels in the industry including Yellow Prod, Juicy Music and Size Records, Nari & Milani have established once again that they are still creating music that is in a class all unto itself.