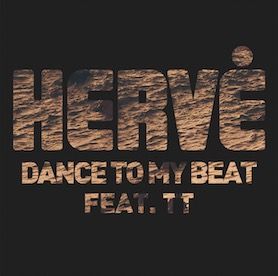 Hervé - Dance To My Beat feat. TT
Skint Records is proud to present a new 4-track EP from Hervé. The bass music stalwart has become famous over the years for his unique sound; he's previously collaborated with the likes of Fatboy Slim and Armand Van Helden, and has two albums and two Essential Mixes under his belt, one as Hervé and one as The Count and Sinden alias. With his two successful 'Ghetto Bass' compilation albums cementing his knowledge of the genre in 2009 and more recently his latest release 'You Give Me Something' having quickly garnered support from tastemaking selectors like Mistajam, the Wideboys and DJ EZ, Hervé is now in the perfect position to release his 'Dance To My Beat' EP.
The eponymous lead track is a no-holds-barred EP opener. Baltimore rapper TT's high-energy verses are fiery party-starting material when layered over Hervé's bouncing bassline and claps, whilst the chorus' catchy melody is formed of chopped up robotic vocals, demanding listeners to "dance to my beat".
Second track 'Fuck The Speakers' is a collaboration with Hervé's long-time musical partner, Sinden. The duo clearly work well together, having produced so many hits in the past, and 'Fuck The Speakers' looks set to be no exception. Male and female robotic vocals repeat the eponymous refrain, whilst electronic notes reminiscent of old-school video and arcade games form the catchy topline.
F.U.Q.U.P is a powerful instrumental that clearly shows off Hervé's jungle and rave influences, with the emphasis on a rumbling sub-bass. Doughnuts Revenge is a similarly effective instrumental piece, featuring uplifting piano breakdowns and a jacking beat.
Alongside the release is a 90's hip hop and street culture inspired video for title track 'Dance To My Beat', check it out here: https://youtu.be/xQUWfuDwD9Y
With a new album now in the pipeline for 2016, 'Dance To My Beat' perfectly showcases Hervé's unique yet diverse styles of production.